TiVo is having trouble in the retail hardware market. But the company's made big strides in the service provider channel, and through the merger with Rovi, it now has both a wider customer base and a broader portfolio of products.
In official news at the SCTE Cable-Tec Expo show, TiVo Inc. (Nasdaq: TIVO) announced that it's adding new features to the Fan TV experience and expanding platform availability to Apple TV and Roku hardware. For those keeping track at home, Fan TV is the brand name for Rovi's guide. It's not currently related to the classic TiVo software, but TiVo's goal is to consolidate the back-end technologies of both platforms, while maintaining two different options for the look and feel of the user interface.
In other words, there will eventually be one engine powering the TiVo and Fan TV platforms, but there will still be two different products sold, giving operators a chance to choose between the classic TiVo and the Fan TV UI.
The official news out of TiVo at this week's event, however, isn't the whole story. TiVo is also showing how both of its software platforms are being ported to new set-tops. At the low end, there are a range of hybrid IP/QAM set-tops now supporting TiVo, including the Evolution Digital LLC eVUE-TV box and customer premises equipment (CPE) from Technicolor (Euronext Paris: TCH; NYSE: TCH) and Arris Group Inc. (Nasdaq: ARRS). TiVo says there are already customers using these boxes with TiVo software. Some deployments are public, like WideOpenWest Holdings LLC (WOW) 's implementation of TiVo on the eVUE-TV device. (See TiVo Teams With Evolution Digital for WOW! Win.)
But others are not, like the customer currently moving forward with the Fan TV platform on a Technicolor box.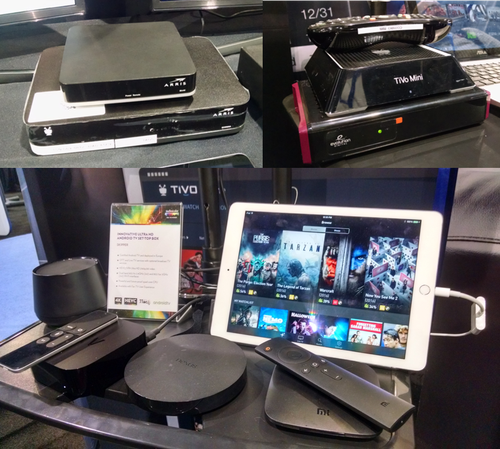 Even more interesting, at the high end, TiVo is showing its classic TV software on two 4K Arris set-tops; one that's a DVR, and one that's a secondary client box. These implementations haven't been publicly announced, but they're being shown in a booth demo, suggesting that TiVo is getting close to offering service providers a 4K TiVo experience.
---
Want to know more about video and TV market trends? Check out our dedicated video services content channel here on Light Reading.
---
The current landscape for pay-TV hardware and software is highly complex, but cable operators are largely driving toward the same end goal. They want to offer more advanced user experiences (including support for 4K) on their own leased set-tops, and they want a product roadmap that will allow them to make their services available on third-party hardware when they're ready to expand in that direction.
TiVo has both fronts covered. And in a clear sign that the industry has turned upside down in the last decade, cable operators appear pretty happy to have TiVo as a go-to software partner.
Related posts:
— Mari Silbey, Senior Editor, Cable/Video, Light Reading