AMSTERDAM -- IBC2018 -- When private equity firm Permira completes its acquisition of Cisco's Service Provider Video Software Solutions (SPVSS) unit and puts flesh on the bones of Synamedia, the switch will be flicked on a new wave of R&D investment in streaming media management and ad insertion tools designed to help service providers serve their multiscreen customers in a way that makes sense in 2018.
That was the main message from industry veteran Dr. Abe Peled, chairman of Synamedia, as he addressed the media here at the annual IBC jamboree. The name of the soon-to-be-active outfit was revealed earlier this month, while the company issued a public statement outlining its general areas of focus as Peled spoke in Amsterdam. (See Bye Bye Cisco Video Software, Hello Synamedia and Synamedia Reveals Strategy & Investment Focus.)
What the statement didn't reveal is the size of the operation that Permira is acquiring (for a still undisclosed sum): Peled says it generates annual revenues of US$850 million and, he told Light Reading, is "profitable... at an EBITDA level." Once the acquisition is complete it will have about 4,500 staff and more than 50 service provider customers.
That sounds like a business that Cisco Systems Inc. (Nasdaq: CSCO) should have held onto, but Peled says Cisco CEO Chuck Robbins "decided to focus on enterprise market... and this didn't fit in with those plans. We will have a single focus, and that will help us."
He added: "Content is still king, the amount of money spent on content has grown amazingly and continues to do so -- people watch TV more than they have ever done so. So delivering and protecting that content is more important than ever, but it needs to be monetized."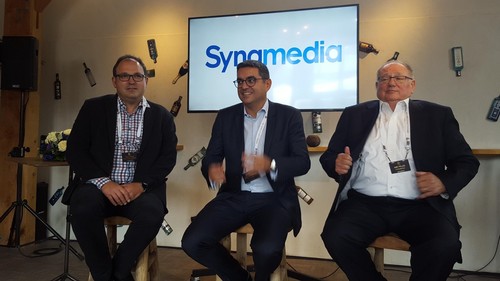 Peled says the assets being acquired comprise the product line that Permira and Peled sold to Cisco as NDS in 2012, plus the former Scientific-Atlanta distribution systems (encoding, etc.), and the assets from a number of other smaller acquisitions such as 1 Mainstream, Inlet Technologies and Arroyo Video Solutions. (See Cisco Dumps Video Software Biz, Ends NDS Era, Cisco Buys OTT Video Specialist 1 Mainstream, Cisco Snatches VOD Vendor Arroyo Video and Cisco Paints Inlet Into Its Videoscape.)
But for what Peled and his team want to do, that may not be enough.
"We have a pretty full portfolio but we may look opportunistically to [make bolt-on acquisitions]... and we have the firepower from Permira," stated the chairman.
There's no shortage of companies offering themselves up, he says.
"When we announced the acquisition I received 720 LinkedIn requests that you could put into three sets -- those who wanted to work for us, those that wanted to partner with us and those that wanted to be acquired by us," he stated.
The company's focus will be on helping service providers to deliver broadcast and OTT content to multiscreen customers in a secure way and help them make more money by analyzing and using the data that is available to them. The biggest immediate revenue opportunities come from enabling existing operators to add IP capabilities to their existing systems: "There is money to be made in upgrades and helping operators to not lose out to their competitors," Peled said.
Security also has been, and still is, a big deal for Peled. "Streaming pirates are the new scourge of the industry -- we will invest in security and disrupt the streaming pirate ecosystem. We will secure content and revenue sources and enable targeted advertising. But vision is the easy part -- execution is the hard part," he added. (See TickBox to Pay $25M to Settle Video Piracy Lawsuit .)
---
Hone in on the opportunities and challenges facing European cable operators. Join Light Reading for the Cable Next-Gen Europe event in London on Nov. 6. All cable operators and other communications service providers get in free!
---
In addition to tackling the streaming pirates, Synamedia will also focus on developing a streaming content portal that service providers can use to aggregate content streams from multiple sources and display it to customers through a single interface, with an integrated search and recommendation engine.
"We are betting that people will want a single portal for their content. Nobody else is developing such a system today -- this is not trivial," Peled tells Light Reading as he rushes off to his next customer meeting.
— Ray Le Maistre, Editor-in-Chief, Light Reading