AMSTERDAM -- IBC2018 -- Video, we are constantly told, is the application that is filling up networks and driving capex-hungry capacity upgrades. And that trend is not expected to stop: Ericsson's Mobility Report suggests that mobile video traffic volumes will grow by 45% annually between now and 2023 and "account for 73% of all mobile data traffic," while Cisco's Visual Networking Index (VNI) suggests video will account for 82% of all IP traffic (annual run rate of 3.3 zettabytes) by 2021.
That, in turn, would drive demand from network operators for video delivery and management technology and create a business opportunity for the equipment vendors that already have procurement relationships with the network builders. The logic seems sound, and, indeed, drove acquisition sprees by Ericsson and Cisco in the past decade.
So why are the major communications networking vendors, including those predicting ongoing video traffic growth, offloading their video technology assets en masse?
This year we've seen: Ericsson, which spent years and billions of dollars building a video-centric business unit, agree to sell a majority stake (51%) in its Media Solutions unit; Cisco strike a deal to sell its service provider video business; and, most recently, Nokia announce the sale of a majority stake its video tech arm, which will become an independent outfit called Velocix. (See Ericsson Stuck in Loss-Making Rut, Offloads Majority Stake in Media Unit, Ericsson Rebadges Media Unit, Eyes Smart Cities, M&A, Bye Bye Cisco Video Software, Hello Synamedia and Just Like Ericsson, Nokia Flogs Majority Stake in Its Video Biz.)
Is there no money to be made? Dr. Abe Peled, who is chairman of Synamedia (the company being based on Cisco's video assets), suggests there is: The company he will chair will have revenues of $850 million and be EBITDA positive from the get-go, he says. (See Synamedia Plots Its First Steps Around Streaming.)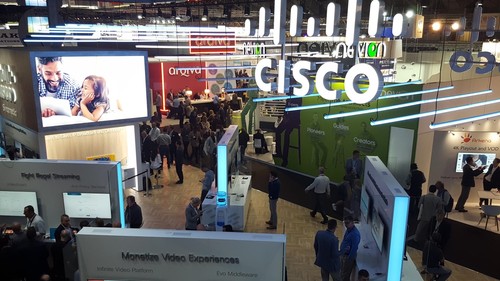 The problems encountered by those major vendors appear to be more to do with focus and financial management.
The management team at MediaKind, the new name for the Ericsson Media Solutions outfit, has made no secret of the lax financial controls at the giant Swedish vendor that resulted in significant losses, even while new business was being won. Under new CEO Borje Ekholm, costs have been cut significantly, Light Reading has been told, in the build-up to the stake sale to One Equity Partners (the deal is set to close imminently). The MediaKind team is bullish about its ability to build a profitable business and has been fleshing out its market strategy during the IBC show: Tight fiscal management and a laser focus on the IP video and cloud-native system needs of its customers is at the heart of its efforts.
Leadership by a management team that is focused on the needs of the video market has also been highlighted by Synamedia and the Nokia video team as being important to success.
As Paul Larbey, the current CEO of Nokia's video business who will become the CEO of Velocix, told our sister publication Telecoms.com: "The video segment requires a level of specialism from the technology through to sales which becomes difficult to do when you're in a big company … Sales cycles are different, customer management is different. The separation allows for agility in a much more dynamic industry."
---
Home in on the opportunities and challenges facing European cable operators. Join Light Reading for the Cable Next-Gen Europe event in London on November 6. All cable operators and other communications service providers get in free!
---
There's also the challenge of an overcrowded market -- there are just too many companies trying to win the same business, making economies of scale almost impossible. "There are too many companies chasing too few dollars," says independent industry analyst Paolo Pescatore. "The big vendors thought they could diversify into the video market but they failed, and while video traffic is growing, operators have never put video capabilities at the core of their operations."
Even so, the opportunity for vendors to cash in, at least to some extent, has been there, reckons Pescatore. "It's incredible. These companies haven't been able to make any money. The key problem is that telcos don't really want to invest in video technology -- the latest example has been the lack of investment in LTE broadcast capabilities."
Soon, MediaKind, Synamedia and Velocix will all be independent players in this market, determining their own strategies and mastering their own domains: How they perform in the coming year will tell us whether the big vendors weren't the right vehicles for those assets or if those businesses just aren't the right ones for the market.
— Ray Le Maistre, Editor-in-Chief, Light Reading