ZoneTV Programs Television Like Pandora
One of the best things about streaming radio is that you can customize playlists based on the music you already know you like. Plug in a song or an artist, and many streaming radio services will build an entire playlist around that choice.
But that wasn't always the case. Until Pandora Media Inc. popularized personalization, Internet radio sounded a lot more like its offline equivalent. It was only over time that more companies started tailoring playlists to individual tastes, an evolution that seems only natural now.
You might say personalization was inevitable... but only once Pandora (ahem) opened the box.
Fast forward to today, and ZoneTV is trying to do much the same thing for television.
ZoneTV is preparing to launch a new service called Dynamic Channels. The offering is exactly what it sounds like -- TV channels that show up in your program guide, but can be customized in real time. Each channel runs like its own interactive app, with options for tagging favorite content, skipping back and forth through a line-up and creating an entirely new playlist of shows according to personal preference. ZoneTV is officially announcing the partnerships that make this service possible today; tie-ups with Ooyala Inc. for video workflow, and Microsoft Corp. (Nasdaq: MSFT) for its Azure Cognitive Services platform. But it's the new offering itself that's the most interesting part of the story, and the fact that Dynamic Channels is scheduled to launch before the end of this year.
ZoneTV isn't the only company working on adding over-the-top interactivity into the standard TV guide. Consider Wurl Inc. , which introduced its own network of content last year that also provides a linear experience combined with on-demand options embedded into each network channel. (See Wurl Network Collapses VoD Into Linear TV.)
But ZoneTV is adding a twist with auto-personalization.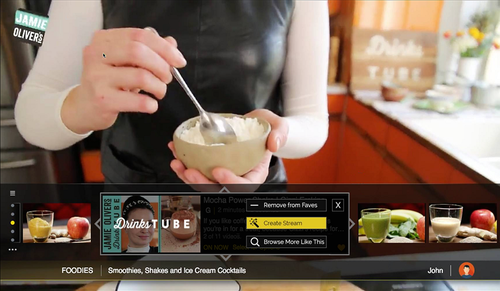 Like Pandora, Dynamic Channels makes it possible for users to wave a figurative wand and conjure up new playlists with both known favorites and new shows selected with the help of predictive algorithms. ZoneTV CEO Jeff Weber says he thinks this is the first instance of a linear programmer using artificial intelligence to shape the content of a TV station. The use of "first" may be hyperbole depending on how you define the terms linear and AI. Lots of on-demand services use data analytics to deliver content recommendations, and while the Dynamic Channels service starts content playback automatically when you tune to a station, it's still effectively an on-demand experience.
But overall, AI-driven programming is still a reasonable way to describe the ZoneTV approach, and that approach could help bring more of the ethos of the web to traditional television.
---
Want to know more about video and TV market trends? Check out our dedicated video services content channel here on Light Reading.
---
It's not only ZoneTV's strategy for video delivery that's interesting, but also the company's chosen business model. ZoneTV considers itself a content provider rather than just a technology player. When it launches Dynamic Channels in Q4, it will do so with upwards of 20 of its own ZoneTV channels, and between 5,000 and 6,000 hours of content. Content includes licensed digital fare based on genres like food and cooking, kid content and sports, and ZoneTV will sell the channels to pay-TV providers bundled with the platform that makes the experience interactive.
"We really feel like bringing a complete solution to an operator helps them move quicker" says Weber.
He notes that a lot of the content providers ZoneTV is negotiating with also aren't ones that operators already tap into, so ZoneTV takes away the labor of forming those relationships. "We put it into a business model that's really simple for operators," says Weber, "and we just take away any reason not to go down this path."
Unsurprisingly, ZoneTV has also generated interest from both pay-TV providers and other programmers about licensing just the company's underlying platform. Weber says the company is open to the possibility, but still wants to start out by selling its own programming line-up.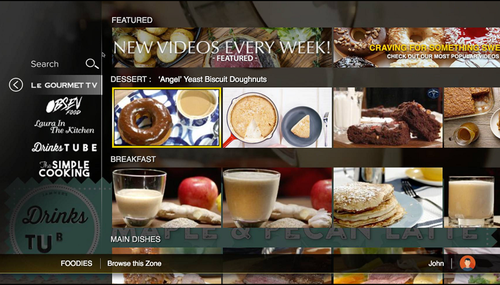 Meanwhile, ZoneTV isn't a newcomer to the TV business. The company has a history of developing interactive television apps in the telco TV world, and it expanded into cable and satellite when it secured both Comcast Corp. (Nasdaq: CMCSA, CMCSK) and DirecTV Group Inc. (NYSE: DTV) as customers in 2016. The two TV giants have used ZoneTV's Santa Tracker app.
Other ZoneTV customers include BCE Inc. (Bell Canada) (NYSE/Toronto: BCE), CenturyLink Inc. (NYSE: CTL), Frontier Communications Corp. (NYSE: FTR) and Telus Corp. (NYSE: TU; Toronto: T).
As for ZoneTV's work with partners, the company is teaming up with Ooyala for video ingest, transcoding and content management. Weber says ZoneTV used to handle these functions in house, but decided to outsource them to Ooyala so it could focus on the main technology powering the Dynamic Channels product.
The company is using Microsoft for its Cognitive Services platform. The primary benefit there is metadata enhancement, which helps ZoneTV determine how to personalize its channels based on a wide variety of factors including speech and text within shows, information on online and social trends and of course viewer behavioral patterns.
According to Weber, ZoneTV has had numerous conversations with potential customers around Dynamic Channels, and he says what's noteworthy is that operators of all sizes are interested. Now ZoneTV just has to turn interest into recurring revenue, something it hopes to accomplish later this year.
— Mari Silbey, Senior Editor, Cable/Video, Light Reading
UPCOMING LIVE EVENTS
June 6-8, 2023, Digital Symposium
June 21, 2023, Digital Symposium
December 6-7, 2023, New York City
All Upcoming Live Events
PARTNER PERSPECTIVES
- content from our sponsors