Why Amazon May Be Cable's Biggest Threat
Amazon Prime Video may be best known for its British TV series and costume drama lineup. I should know. I've watched Downton Abbey, Grantchester and more. But the current catalog doesn't mean Amazon wants to remain a niche viewing service forever, however it might define that category of content.
As evidence, Amazon.com Inc. (Nasdaq: AMZN)'s head of Prime video content recently told Variety that CEO Jeff Bezos wants to own a series as popular as Game of Thrones. And he's willing to pay to make it happen. According to analysts, Amazon is investing $4.5 billion in content this year. That's less than Netflix Inc. (Nasdaq: NFLX), but more than Home Box Office Inc. (HBO) , and it should be enough to make cable companies worry.
Amazon doesn't just have money, however. It also has unparalleled reach across the consumer landscape. The company can cross-market, cross-promote and cross-sell video services in a thousand different ways, and it's that consumer reach combined with the company's cash that's a major competitive advantage.
Consider this. Amazon is already handing out free access to video with the purchase of a Prime membership, and the approach has netted it an audience of around 79 million customers. But Amazon doesn't have to stop there. The company just bought Whole Foods. It could build content rewards into its food shopping loyalty program. It could take advantage of your buying habits online to recommend new shows it thinks you should be watching. It could use the TV shows you watch to recommend other products to buy within the Amazon ecosystem. The possibilities are endless.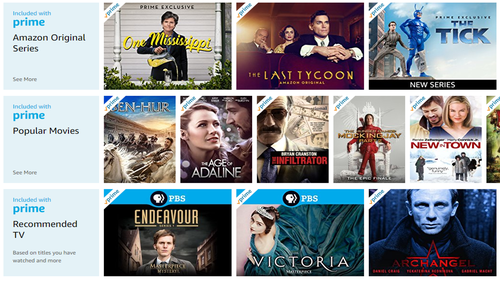 Cable companies know this. At the Liberty Global Tech Summit recently, Broadband TV News reports that Liberty Global Inc. (Nasdaq: LBTY) CEO Mike Fries expressed concern about Amazon giving away content that's core to cable companies' business. What he didn't articulate, however, is that while it's hard to compete with free, it's also hard to compete when your rival has unprecedented ways of making money off the same product you sell.
Traditional pay-TV providers can bundle video services with broadband, and that's a big deal. But Amazon can bundle video services with almost anything else. (See also Boom! Hulu Just Blew Up the TV Bundle.)
There is growing chatter in the press about Amazon's market power and whether it should be treated as a monopoly. Should the government place restrictions on it? Should the retail powerhouse be broken up?
I don't know, but certainly there are many companies in many sectors that see Amazon as a credible threat to their survival. There's no reason to think the cable industry is immune.
— Mari Silbey, Senior Editor, Cable/Video, Light Reading