The rumor mill is working overtime with reports that both Disney and Comcast are interested in buying up TV and film assets from 21st Century Fox. But a deal negotiated by either company could be problematic once regulators get involved.
The Fox assets up for bid reportedly do not include Fox News or Fox Sports, but they do include other broadcast content, possibly Fox's 30% stake in Hulu and the company's 39% stake in European-based operator Sky. Why is this a problem? Because US regulators have recently demonstrated with the AT&T/Time Warner deal that they're not wild about further vertical integration of programmer and TV distribution companies.
So what if Comcast Corp. (Nasdaq: CMCSA, CMCSK) and Walt Disney Co. (NYSE: DIS) split the difference? What if Comcast agreed to buy the stake in Sky while Disney agreed to take over the content properties that 21st Century Fox is putting up for sale?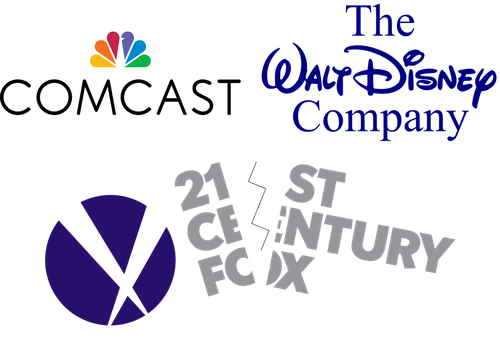 There are still potentially significant regulatory concerns to consider -- both the fact that such a transaction would give Disney a major boost in studio ownership, and that Comcast would extend its already large share of the pay-TV and broadband markets. However, a split deal would be less egregious than one company taking everything. And certainly in Comcast's case, it seems far more likely that regulators would feel comfortable with a sale if it didn't include Fox programming assets.
The economics of a split deal are one question. And I can't claim to know how or if the financials would work out for all parties involved. However, the other question is whether a split deal would make strategic sense, and on that front, I can weigh in, at least from a Comcast perspective.
There are several reasons why Fox's 39% ownership of Sky is an appealing prospect for Comcast. Bloomberg reports that Comcast is interested in Sky's TV technology, which it sees as something of an equivalent to the X1 video platform. I think it's more likely that Comcast is interested in the added scale that Sky would give it -- across TV, broadband and wireless. Comcast could theoretically negotiate some more favorable content deals with Sky's added audience of 11 million or so TV viewers in the UK and Ireland (yes, not everything would translate across continents), and it could leverage the added broadband and wireless footprint in technology vendor partnerships. Not to mention, gaining a larger broadband territory is also advantageous as Comcast goes after business services deals.
---
Want to know more about video and TV market trends? Check out our dedicated video services content channel here on Light Reading.
---
There's also the fact that Comcast clearly wants to expand internationally. In the near term, the operator isn't interested in moving outside its footprint in the US both because of economic and regulatory realities, something CEO Brian Roberts has reiterated on multiple occasions. That means Comcast's best opportunity for growth in its legacy businesses is outside the country. (See Comcast: X1 Strong, No Need to Go OTT Today and Comcast Eyes Global Moves, BYOD & More.)
Further, Comcast has already made moves to extend beyond its US borders, as evidenced by the licensing of the X1 platform to several major Canadian cable operators, and Comcast's wholesaling of home security and automation technology in countries as far away as Australia and Japan.
Expanding internationally is also a good way to prepare for the future of video. Comcast may not want to take its video delivery to the Internet today, but eventually industry economics will shift far enough that Comcast's business model will have to change with it ... even if we're talking about a decade from now. When the economics do evolve far enough, it will help Comcast if the company already has a multinational footprint.
And I haven't even mentioned the Internet of Things yet. Comcast has big IoT plans, and investing in wired infrastructure today all over the world will make it easier to capitalize on IoT applications in the future. (See Comcast Accelerates Into 15 IoT Markets.)
No doubt Comcast would also like more content in the form of Fox's TV and film assets. After all, there's a reason it bought NBCUniversal.
But if it can walk away just with Sky? I think Comcast would still be pretty happy with a split deal.
— Mari Silbey, Senior Editor, Cable/Video, Light Reading