We've known for years that the borders between regional cable providers are slowly disintegrating. Commercial services are expanding beyond traditional franchise territories, Comcast licensing agreements have put its technology in homes far outside its footprint and new mobile services are only artificially being limited to existing, in-region cable customers.
But oddly enough, it's the new Winter Olympics experience via Comcast's Stream TV app that has me convinced the timeline for national cable company expansion has shrunk dramatically. How dramatically? I'm generally terrified to make predictions in writing, but if I had to put money on it, I'd say Comcast Corp. (Nasdaq: CMCSA, CMCSK) and/or Charter Communications Inc. will be national players within the next two to three years.
Here's what started me down this path. I accepted Comcast's offer to try out the Stream TV app during the Winter Olympics even though I'm not a Comcast subscriber. To access the content for the Olympic Games, I had to download the app and then enter the credentials provided by Comcast.
That's it. That's all I had to do.
Now, as far as I can tell, I have access to virtually all of Comcast's TV lineup online. That includes both live and on-demand video. While I'm guessing there are some local channels missing (I think I'm getting a Philadelphia version of the service), there's nothing glaringly absent.
And it works well. There's some buffering when tuning to a new channel, but not enough to be an issue.
In short, I have zero Comcast infrastructure in or leading up to my house, and yet I was able to sign in and start streaming Xfinity TV service in about 30 seconds. I knew all about the possibility of password-sharing before, but until I experienced the sign-in process personally, I had no idea what that looked like in reality.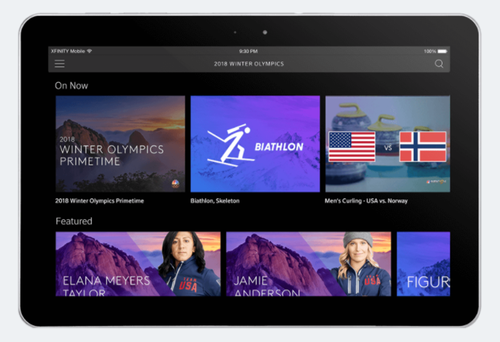 Comcast has said again and again that it has no financial reason to offer video service outside its existing footprint. The value for Comcast is in the bundle, and specifically in using its infrastructure investments to maximize both the value it can deliver to subscribers and the revenue it can collect in return. (See Comcast: X1 Strong, No Need to Go OTT Today.)
However, the company has very clearly hedged against the day when the financial equation changes. Economically speaking, Comcast wants to protect its current high-cost in-home service bundle. But technically? It can deliver a full-featured TV service anywhere. And it's worked very hard to be able to do so.
So what might change about the financial equation? First, the way others are offering TV service has shifted. AT&T Inc. (NYSE: T) may be taking a bath on DirecTV Now at the moment (it definitely is), but as the satellite business continues to decline, it will inevitably have to price the OTT offering in a way that allows it to make money on video and not just reduce wireless churn. And in the meantime, AT&T will put increasing competitive pressure on other service providers (including cable companies), both through direct-to-consumer pricing and through resale deals with other broadband providers.
Second, both Comcast and Charter are entering the wireless market. Today Comcast's wireless service is limited (Charter won't launch until later in the year), but the cable companies have the resources and incentive to expand their offerings, particularly as many aspects of wired and wireless networks start to converge in the run-up to 5G. As their wireless services grow over the long haul (say the next five to ten years), they will ultimately be able to take financial advantage of bundling TV with wireless broadband -- where there are far fewer technical boundaries to broad geographic coverage than there are with cable networks -- in the same way they bundle video service with wireline broadband today.
---
Get your strategic roadmap to the technology trends and business cases shaping the cable industry! Join us for the Cable Next-Gen Technologies & Strategies event in Denver on March 20-22. Don't miss this exclusive opportunity to network with and learn from industry experts -- communications service providers get in free!
---
Okay, so the wireless shift isn't going to happen overnight. So what? The fact that the market is headed in the direction I've described means Comcast and Charter have to prepare for that eventuality. Wireless carriers are becoming national TV providers. Cable companies will do the same.
Specific to timing, it wasn't clear to me initially that the cable operators would move more quickly to go national than their wireless trajectories proscribed. But, now that I've tried the Stream TV app, I'm convinced. It's literally all right there.
Comcast can slice and dice and package and price the service all it wants, but the fact that it could be selling Stream TV outside its footprint and bringing in brand new revenue means that it will. It will move carefully and do everything it can not to cannibalize its existing TV business during the long wireless transition, but it will move.
Money talks. I'm betting it will talk sooner than many people think.
— Mari Silbey, Senior Editor, Cable/Video, Light Reading