There was a time when digital cable made set-tops obsolete, but that time was brief.
Both the introduction of digital video recorders and, more critically, the practice by cable companies of encrypting their QAM signals, put an end to the short box-free era. Cable operators argue that they need to encrypt their transmissions to prevent theft, and that that decryption requires a combination of both hardware and software, hence set-tops.
Content security company Nagra doesn't disagree. But while the company believes in hardware-based security, it also contends that decryption is possible without a set-top. And Nagra now has a new satellite TV customer to help prove its case.
While not naming the customer directly, Nagra has revealed that a European satellite TV provider will launch with Nagra's TVkey solution for Samsung TV sets in the first quarter of this year. Instead of a set-top, TVkey is a USB dongle that plugs into the back of a viewer's TV. Dongle may be misleading as a description. The tiny device is smaller than the average thumb, but it promises to pack a punch where security is concerned.
The TVkey product works by communicating through a root of trust established in certain TV chipsets, creating a path for secure decryption. Content is then re-encrypted locally so that it can't be shared or stolen. Nagra and Samsung Electronics Co. Ltd. (Korea: SEC) have partnered initially to bring the product to market, but they're also now licensing the technology to "third-party chipset, TV, dongle and conditional access vendors." (See Nagra, Samsung to License TVkey Video Security Tech.)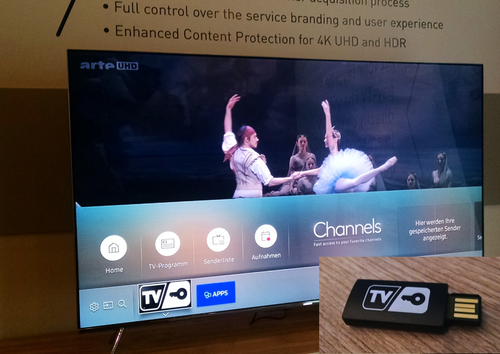 What's interesting about TVkey is the potential it has to change pay-TV business models. For example, Nagra's first customer for the technology is planning to bundle the TVkey device with Samsung TV sets and then offer a six-month free trial of its service. That's similar to how AOL once sent out free CDs in the 1990s to promote and deliver dial-up Internet. It's a type of model that was originally part of the promise of cloud-based pay-TV services as well. Unfortunately, content security concerns, particularly in the US, derailed adoption. (See Deutsche Telekom Tests Set-Top Virtualization.)
---
Want to know more about video and TV market trends? Check out our dedicated video services content channel here on Light Reading.
---
There are other implications for TVkey deployments too. Because of the assured security, TVkey devices could be used to help drive 4K video viewing. An operator might, for instance, sell an inexpensive introductory package of live 4K sports content tied to the purchase of a 4K set. That could be a cheap and easy way to bring a new customer on board and link the value of a 4K TV with 4K broadcast content. There's still limited live 4K content available today, but that's slowly changing with service providers in the US, the UK and Canada among those that have now aired 4K sports matchups in real time. (See 4K & VR Trickle Out... Slowly and Sports in 4K, It's Coming.)
Nagra officials do acknowledge that the TVkey technology was conceived for markets outside the US where operators are more accustomed to modular security. (Hello US CableCARD disaster -- see Obama Signs CableCARD Death Warrant.)
However, at the very least, TVkey suggests it's possible to deliver high-end security in a small hardware package.
— Mari Silbey, Senior Editor, Cable/Video, Light Reading