LONDON -- Cable Next-Gen Europe -- Vodafone is banking on the cloud and an OTT approach to pay-TV, and believes that this strategy will pay off handsomely as it looks to deliver a new, multiscreen video product across several properties in Europe and parts of the Asia Pacific.
Going with that technology and distribution focus is not only beneficial, but necessary, as Vodafone aims to scale up a video offering that can cross both telco and cable networks, Nuno Sanches, group head of fixed development at Vodafone, said here this week.
Vodafone, which is about to become an even more significant pay-TV player in the region as it looks to complete the acquisition of certain Liberty Global properties in Europe, had to look to the cloud and an OTT-based, multiscreen platform in order to unify and scale its new offering across all network types. (See Vodafone Strikes €18.4B Deal to Buy Liberty Assets.)
"Our mobile background is key to understanding how we define our [TV] strategy," Sanches said, adding that a key goal is for Vodafone is to converge its mobile and newer fixed network experiences as it expands further into pay-TV.
"Pretty much, we are the most messed up network operator in the world," Sanches joked of the string of M&A that has spawned this multi-network scenario. "We literally have everything you can imagine." And the level of complexity grows when those scenarios are present inside an individual country.
"We were in for a big ride," Sanches said when recalling when Vodafone started to tackle this challenging beast about three years ago.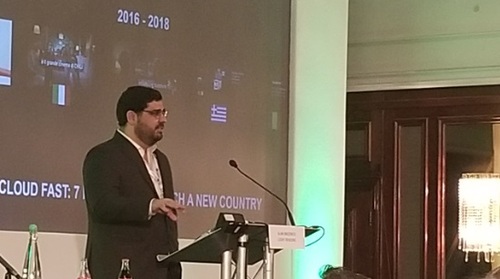 "We could not think about products and services as network-specific," Sanches stressed, noting that Vodafone's mobile background likewise meant that its underlying skillset didn't cover. "No one understood cable. No one understood fixed networks."
Going to OTT and cloud-based systems have served as way to create some uniformity and a level of technological commonality across Vodafone's different networks and, in some ways, bring the smartphone experience to the TV.
"We had to differentiate [with] technology," Sanches said.
And Vodafone decided that it had to do that from the ground up, rather than simply buying something off the shelf from a vendor. And it all had to start with the cloud and a "greenfield mindset," the Vodafone exec added. "Don't be afraid to start from zero."
In addition to delivering service on smart TVs and OTT devices, Vodafone has also developed its own box for the new pay-TV service and deploys it to customers when it makes the most sense from a financial and network-efficiency standpoint.
Of the effort so far, Sanches said he's most proud of how quickly Vodafone's technology-templated approach enables the company to turn up the service in a new market. Typically, it takes about seven months from the time a CEO in a given country decides to launch TV to the moment the first customer is getting service, he said
Vodafone has launched its new cloud-based TV service in a handful of countries -- Spain in 2015, followed by deployments in Italy, New Zealand, Greece and Romania.
The initial priority is to put all new subscribers onto the new platform across Vodafone's properties while also weighing the cost and benefit tradeoffs when considering whether to put a current customer on the new service.
Sanches also has some thoughts about how the attitude with OTT has shifted, from being antagonistic to pay-TV to something that should be embraced and integrated into a service provider's core video offering.
The old view is "skewed," Sanches said. "We're past that discussion. OTT is pay-TV."
— Jeff Baumgartner, Senior Editor, Light Reading