Shedding a bit more light on its pay-TV plans, T-Mmobile told the FCC last week that its forthcoming 5G network, aided by its pending merger with Sprint, will enable it to bring "wireless first" TV to urban and rural customers.
T-Mobile US Inc. , in a presentation to the Federal Communications Commission (FCC) made on August 28 that was documented in this partially redacted ex parte filing, said its coming national TV service will also pack enough capacity to deliver some of its video lineup wirelessly at 4K resolutions. (See Dish, T-Mobile's Layer3 TV Offer Epix's 4K Fare .)
The company's TV plans started to take shape last year, when T-Mobile agreed to acquire Denver-based Layer3 TV for about $325 million. T-Mobile, which closed the deal in January, has yet to reveal pricing and packaging details on the national version of the OTT TV service, but has stressed that its new customer service initiative will factor into its video plans. (See T-Mobile buys Layer3 TV, plans OTT launch, T-Mobile to Play the Customer Care Card With Layer3 TV and T-Mobile Promises 'A Lot of Firsts' for New OTT TV Service.)
But don't expect the Layer3 TV name to stick around as a consumer brand. According to the filing, spotted by FierceVideo, T-Mobile will wield a rebranded video offering aimed at helping a number of consumers (the exact sub figure was redacted) "break up" with their pay-TV providers.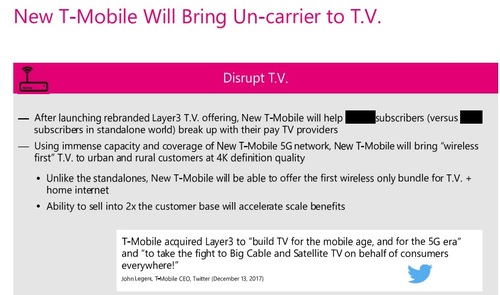 Focusing on wireless connectivity and a national reach and tying it to a customer acquisition campaign should enable T-Mobile to cast a wider net. Layer3 TV had launched service in a handful of markets (Los Angeles; Chicago; Washington D.C.; Dallas/Ft. Worth; and Longmont, Colo.), and had about 5,000 customers when T-Mobile acquired it.
T-Mobile also reiterated that 5G will serve as the "foundation" of the newly combined company, claiming it will be the first positioned to offer a wireless-only bundle for in-home TV and high-speed broadband services.
Calling out in-home broadband substitution as a reason for regulators to stamp the Sprint Corp. (NYSE: S) merger, T-Mobile is also holding fast to a prediction that it can scoop up 9.5 million high-speed Internet subs by 2024, and that its 5G network will be capable of delivering wireless speeds of more than 100 Mbit/s to 90% of the US population by then. T-Mobile also predicted that 35% to 40% of US homes will be able to meet their home broadband needs through tethering by 2024. (See T-Mobile: 5G Lets Us Take Broadband Across America.)
— Jeff Baumgartner, Senior Editor, Light Reading