Pay-TV operators constantly bemoan rising programming costs in the form of retransmission fees, and with good reason.
In a chart submitted to the Federal Communications Commission (FCC) last month (shown below), Sinclair listed retrans fees as running close to $40 billion this year, with the bulk of that money going to cable networks, but a growing portion delivered to broadcasters. Sinclair projects that broadcasters will take in nearly $5 billion in these licensing fees by 2016 (not including the involvement of regional sport networks), while Wells Fargo analyst Marci Ryvicker believes that number could rise to nearly $12 billion by 2019.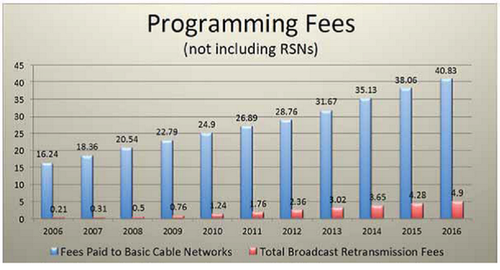 However, in an interesting twist on the argument over programming costs, Sinclair also points out that the retransmission fees affiliate broadcast networks receive is countered by the reverse retrans fees they have to pay to their parent broadcasting networks. And where Comcast Corp. (Nasdaq: CMCSA, CMCSK) is concerned, the money flows in both directions.
As Sinclair emphasizes, when NBCUniversal LLC -- which Comcast owns -- asks affiliates to pay more for content, those affiliates turn around and ask for more money from pay-TV providers -- including Comcast -- to balance out the cost. It's a continuous cycle of increases, and it's not at all clear where the cycle ends.
---
Get the latest updates on retransmission-fee trends by visiting Light Reading's video services content channel.
---
For context, Sinclair's filing with the FCC last month was a response to the proposed mega-merger of Comcast and Time Warner Cable Inc. (NYSE: TWC). Sinclair worries that the merger will give Comcast too much market power on several fronts. But, specifically with regard to licensing fees, Sinclair declared that it would like the FCC to cap reverse retransmission fees in percentage terms as a condition of the transaction.
From the document: "The Commission should establish a condition that would cap reverse retransmission fees at 50% of the retransmission consent fees received by a broadcaster for the relevant market. This could help preserve a broadcaster's ability to invest in programming, among other things."
Percentages are one thing, but absolute programming costs are another. The evidence suggests that they're going nowhere but up.
Related posts:

— Mari Silbey, special to Light Reading