SkyStream also drawn by the allure of Omniverse
SkyStream Technologies, a supplier of Android TV streaming media players, was also intrigued by the potential that Omniverse presented.

According to SkyStream CEO and co-founder Philip Lelle, a big goal of the company was to deliver a legal OTT-TV service of its own that it could market on the streaming platform it was selling to consumers. "That was our dream," Lelle said.

Lelle said that dream appeared to come true in April 2018 when the Omniverse opportunity came to him.

After reviewing the documentation about rights and licenses and having discussions with both Omniverse and Flixon, Lelle said SkyStream signed on as a Flixon distributor in July 2018, agreeing to pay $25,000 to Omniverse along with ongoing monthly commitments on subscribers.

Lille said he was "absolutely" convinced that the documentation shown to SkyStream clearly indicated that the service it would sell was legal. "It's a pretty thick document… everything looked perfect," he said. "I thought we did enough due diligence."

Lelle said his only reservation early on was that SkyStream TV was saddled with some restrictions, including the requirement of a set-top box and being directed not to amplify messaging about cord-cutting. "No cable bashing whatsoever" was allowed, Lelle said.

But SkyStream proceeded with a soft-launch of SkyStream TV in July 2018, but decided not to market it heavily right away. When Omniverse shut down the consumer offering at the end of May 2019, SkyStream TV had fewer than 500 subscribers, according to Lelle.

However, the fallout of the Omniverse association in the wake of the still-pending ACE lawsuit against Omniverse has done more than cause SkyStream to lose those pay-TV customers. Lelle said it has damaged the reputation of his company.

"When this case hit in February, everybody stopped talking to SkyStream," he said. "Now we're trying to get our name, SkyStream Technologies, back out of the red, because everything got pulled over our eyes."

SkyStream was just one of dozens of partners that connected with Flixon.

Flixon declined to name the ISPs that it signed on, but public information posted on the web indicates that several relatively small service providers were among them, including WestPAnet Inc., MI Internet Company, Metroplex Communications, Locality Networks, HBE Internet and URTV Now.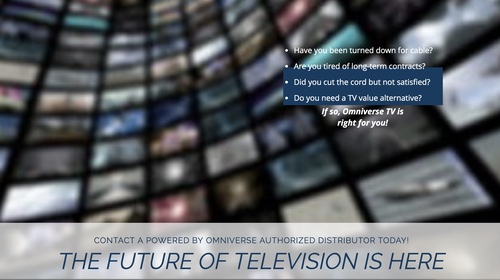 Starry-eyed about CenturyLink
But, according to Smith, Flixon and Omniverse were zeroing in on a much bigger deal that was poised to be a game-changer for both -- a deal with CenturyLink.
Before the Omniverse lawsuit hit, Smith said Flixon was invited to CenturyLink's offices to conduct presentations about how CenturyLink could come on board as a Flixon distributor and tap into a hosted video service that it could resell to its broadband customers. Similar to Flixon's work with other ISPs, Flixon would serve as a fulfillment and marketing provider for CenturyLink.
CenturyLink "was literally going to be a Flixon distributor," Smith said, noting that CenturyLink was intrigued by the competitive pricing it would be able to offer to various markets, including the MDU sector. Flixon, he said, had set up the apps, the backend systems, and a 24/7 support team.
"The deal was more or less ready to be signed and ready to proceed on," Smith said. "Then the lawsuit hit [in February 2019] and there were a lot of unanswered questions, and things started getting really concerning."
A person familiar with the situation corroborated Smith's assertion that CenturyLink, Omniverse and Flixon were once engaged in talks about teaming on a hosted OTT video solution. It's not clear if a business engagement involving CenturyLink and Omniverse is ongoing amid the since-scuttled relationship between Omniverse and Flixon, and Omniverse's recent decision to shut down its direct-to-consumer TV business and instead focus on the MDU market.
CenturyLink declined to comment for this story. However, the company's pay-TV business has been evolving in recent years as CenturyLink has steered away from its unprofitable OTT and managed IPTV products. CenturyLink launched a trial of its own OTT-TV service, called CenturyLink Stream, in mid-2017, and then shut it down in March 2018. At the time, CenturyLink said it would "pursue new partnerships to meet emerging market trends in the video space." In Q1 2018, CenturyLink also halted the marketing of Prism TV, its in-footprint, managed IPTV service.
Flixon's Smith said he attempted to have some of his concerns about the lawsuit and other issues addressed at the NAB Show in April 2019 in Las Vegas, where he had an opportunity to meet with DeMeo and an unnamed exec with CenturyLink. Smith said they attempted to allay his concerns about the ACE lawsuit, claiming that one of the plaintiffs in that case, Paramount, had instructed ACE to drop the case.
"We now believe this to be a total fabrication," Smith explained in written comments about his recollection of that meeting in Las Vegas.
Smith declined to detail the full contents of that meeting, "but it certainly was not a professional experience," Smith said. "I left that meeting extremely nervous and thought to myself: What are we actually involved with here?"
Smith said Flixon and Omniverse officially parted ways in mid-April, and all pay-TV customers signed on through Flixon and its distribution partners (Smith said there were only about 2,000 of them at the time) were transferred to Omniverse and a new service branded OmniGo. Smith said Flixon developed the rebranded OmniGo.tv service, with approval from Omniverse, before the customer transfer and the severing of the business relationship.
"We just gave them the book of business," Smith explained, but added that he was surprised to learn that new distributors continued to be signed up via Flixon even after the business between his company and Omniverse had come to an end.
Smith holds that he did not always get timely or straight answers from Omniverse and, upon reflection, harbors regrets about doing business with Omniverse. But he is also of the opinion that Omniverse and DeMeo truly believed the company was on solid legal footing from the start based on their interpretation of the Hovsat-DirecTV contract.
"I don't think he's intentionally gone out there and done something he shouldn't have done," Smith said. "He really believes he's got something special, but I don't think many of us do now."
Smith acknowledges that the way things were put together through the Omniverse were not traditional, but contends that he still felt everything was being done with the right deals and distribution rights intact... at least early on.
In a written document detailing Flixon's experience with Omniverse, Smith explained that he had reached out to an engineer at Omniverse to get a better understanding of Omniverse's headend setup and said he received this response: "I knew that we were definitely not doing things the 'normal' way (IRDs [integrated receiver decoders], etc)…but we weren't claiming to be doing them that way. [W]e just operated under the understanding that all the rights and permissions were in place and were trying to do a new, cool thing that hadn't been done before."
Next page: Subpoenas put a scare into Omniverse partners