Netflix Trades at Record Highs on Q2 Report
Fears that Netflix might not be able to sustain subscriber growth appear vastly overblown. The streaming video giant added 5.2 million new customers in the second quarter, well above the 3.2 million it was forecasting three months ago. And while the number of international subscribers now edges out the company's US customer total, Netflix still managed to add 1.1 million domestic subs in Q2, an impressive feat in an already mature market.
The Netflix Inc. (Nasdaq: NFLX) stock price soared in after-hours trading, reaching nearly $180 per share at its evening peak, a record high. Enthusiasm was buoyed not only by customer growth, but also by the fact that the company met its revenue target of $2.76 billion in the quarter. Earnings per share fell slightly below consensus analyst estimates of $0.16, but were right in line with what Netflix itself predicted at the end of Q1. (See also Netflix Nears Big Milestones.)
All told, Netflix brought in $2.76 billion in revenue for the second quarter, and now has 52.03 million international customers alongside 51.92 million customers in the US. The company crested the 100 million mark for subscribers in the most recent three-month period. Its current tally stands at nearly 104 million total customers.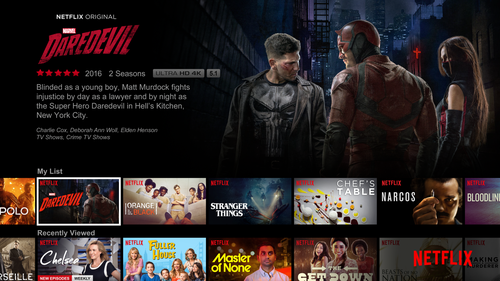 There are a few noteworthy asides in the Netflix earnings report beyond the company's impressive growth. One is the fact that Netflix earned 91 Emmy nominations this year, more than double the number it garnered 12 months ago. And in the 'best series' category, Netflix has the most programs in contention for an Emmy of any network in 2017, with five nominees out of a total 14.
Another interesting point is the fact that Netflix continues to expand its distribution partnerships with more traditional pay-TV providers. After launching Netflix service on the Comcast Corp. (Nasdaq: CMCSA, CMCSK) X1 video platform in Q4 of last year, and expanding distribution with Liberty Global Inc. (Nasdaq: LBTY), the company announced another major MSO deal in Q2. Altice started rolling the service out in France in June, with plans to extend into additional markets throughout the year. (See Altice Adds Netflix to International Line-up.)
---
Want to know more about video and TV market trends? Check out our dedicated video services content channel here on Light Reading.
---
Investors have worried for years over how long Netflix can continue to grow, but despite the company's significant success, CEO Reed Hastings still believes there's massive room for further expansion, and not just in international markets.
"We're such a small player in our viewing compared to linear TV, compared to YouTube," he pointed out in the company's earnings presentation. "So we've got a long way to go to have more and more content to please more and more members to continue to grow."
Hastings also gave an indication that future revenue growth won't require drastic price increases.
"All of this decade, Netflix has been available for eight dollars," he stated, adding that "a key part of the successful strategy is that we're staying very, very affordable for people."
That suggests that while Netflix could probably raise its base price to boost revenues further, it's very aware of how much of its appeal comes from the low monthly fee. That fee may not stay at $8 forever, but it's also not likely to rise to anywhere near the level of what traditional pay-TV providers charge.
Even skinny bundles look expensive next to a Netflix subscription.
— Mari Silbey, Senior Editor, Cable/Video, Light Reading
PARTNER PERSPECTIVES
- content from our sponsors