Is the Worst Over for US Pay-TV?

Comment (1)
The US pay-TV industry witnessed record bloodshed in the second quarter as the sector -- including both traditional and the OTT-delivered services -- lost a ghastly 1.04 million subs, down 2.8% year-over-year, per the latest estimates from MoffettNathanson.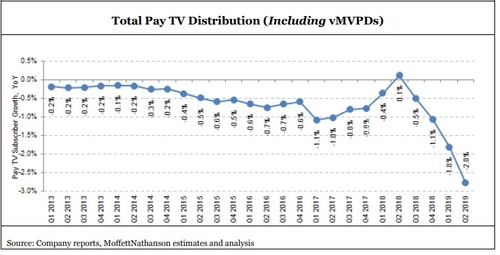 When virtual MVPDs are removed from the equation, it gets really ugly, with the rate of decline dipping to 5.4%. The rate of subscriber losses in Q2 was a record that service providers will obviously want to avoid repeating.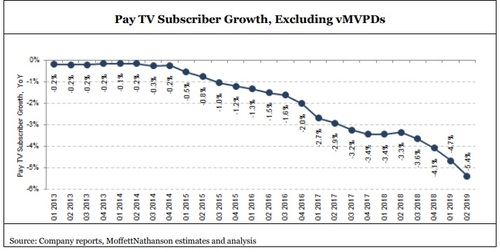 As service providers lick their wounds after getting gashed in Q2, MoffettNathanson analyst Craig Moffett wonders if the worst might be over. He isn't predicting a rebound in which pay-TV sub gains would (gasp!) return to positive levels, but he does believe that the rate of the bleeding might start to slow down and normalize.
"Maybe it's just the contrarians in us, but allow us to ponder something that is rather seriously out of consensus for a moment," he wrote a new Cord Cutting Monitor report delivered via email Thursday. "Might things actually start to get better from here? If not right away (i.e., in Q3), then at least relatively soon? To be clear, we're not even remotely considering that video subscribership might suddenly return to growth. We're simply asking whether there is any case at all to be made that the rate of decline could soon begin to slow a bit."
He said that's not a hard case to make for traditional pay-TV providers, noting that the shocking losses at DirecTV as well as DirecTV Now (recently rebranded as AT&T TV Now) were "self-inflicted" as subs rolled off of steeply discounted promos.
"After these promotional subscribers disconnect, the rate of decline could begin to stabilize," Moffett predicted, while adding that the Q2 video sub losses at the nation's other major satellite TV player, Dish Network, were actually better than expected.
"Perhaps the most cogent argument for at least some improvement is that, eventually, the customers who most wanted to leave will eventually have left," Moffett explained.
He also stressed that the cord-cutting problem isn't "over" or that a major change in direction is coming to US pay-TV. It just may be that Q2 2019 was a high water mark regarding the rate consumers fled to the pay-TV exits.
But it's also clear that virtual MVPDs are not and will not make up the difference, with Moffett pointing out that most of them have had to raise prices, "succumbing to the same channel lineup bloat that plagued their legacy peers," and therefore making them less and less compelling. Pay-TV subs that aren't pivoting to virtual MVPDs are often filling the gap with SVoD services, he added.
Moffett also points out that that the early business models for many vMVPDs were based on razor-thin margins (or perhaps at a loss) that simply aren't sustainable. Moffett notes that many of the more popular OTT-TV services were in the range of $30 to $35 per month a year and a half ago, and many are now in the neighborhood of $45 to $50.
Breaking down Q2
Looking at the big picture, the US pay TV industry lost 1.04 million subs in Q2, with traditional players shedding 1.47 million against 430,000 adds among the virtual MVPDs.
While US cable losses widened to 494,000 in Q2 2019 versus a year-ago loss of 299,000, satellite TV lost 832,000 subs, compared to a loss of 483,000 in Q2 2018.
Virtual MVPD additions of 430,000 in Q2 were well below year-ago additions of 756,000. Virtual MVPD sub numbers are a bit of a black box since only Sling TV and AT&T release those numbers each quarter, but, according to Moffett's estimates, Hulu Live was solid (adding about 300,000 subs to put it past about 2.4 million), as was YouTube TV, which also added about 300,000 to raise its sub base to 1.5 million.
At the end of Q2, the US pay-TV universe had about 94.64 million subs, comprised of 49.95 million from cable, 27.52 million via satellite, 8.8 million from the telco TV providers, and 8.36 million among the various virtual MVPDs.
Related posts:

— Jeff Baumgartner, Senior Editor, Light Reading
PARTNER PERSPECTIVES
- content from our sponsors
GUEST PERSPECTIVES
- curated contributions