In the TV Biz, AT&T Walks a Tricky Line

Comment (1)
When AT&T launched its DirecTV Now service, the company trotted out the rather damaging statement that it's currently operating five separate video platforms. Convergence is the goal, but that's going to take some time, and, meanwhile, AT&T is managing a balancing act across multiple platforms with multiple feature sets and multiple audience segments.
So far, it's not going very well.
First there's the fact that AT&T Inc. (NYSE: T) is shedding U-verse customers like so much dandruff. The company lost 233,000 U-verse subs in the first quarter, and it hasn't reassured customers about the service's future prospects. While AT&T says it's not abandoning its original IPTV product, it's also made clear it's not focusing its resources there either. For example, new features coming soon to DirecTV Now aren't given a definitive timeline in the U-verse universe. AT&T notes only that, "Customers of other AT&T video services will have the opportunity to start using the new platform (with the new DirecTV Now features) in the coming years." (See also AT&T Unveils Next-Gen Video Platform .)
And what about DirecTV Now? The over-the-top video app suffered serious glitches during the premiere of Game of Thrones last night with outage reports coming in from across the US.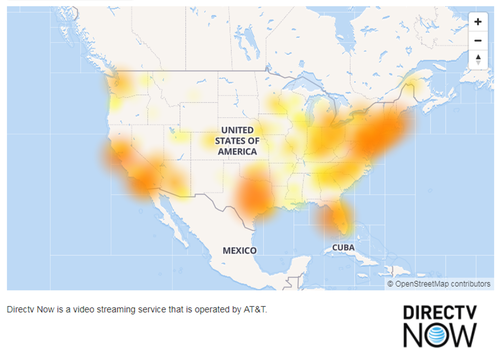 This isn't the first time AT&T's had issues with the service either. There have been intermittent technical difficulties with DirecTV Now since its launch last fall and, reportedly, subscriber growth has stalled. According to Bloomberg, the service actually lost a few thousand subs in February after reaching a total of 328,000 customers in January.
Throughout all of this, the traditional base of DirecTV satellite subscribers has remained stable. The question is can AT&T maintain that business while its attention is continuously directed elsewhere? The telco's second-quarter earnings report later this month should tell us more.
---
Want to know more about video and TV market trends? Check out our dedicated video services content channel here on Light Reading.
---
Of course, the elephant in the room is AT&T's pending acquisition of Time Warner Inc. (NYSE: TWX). That deal is still waiting on regulatory approval even as AT&T strives to make the transaction appear inevitable with plans for a major reorganization once the merger is done. (See Report: AT&T Sets Major Post-Merger Re-Org.)
If and when the deal does go through, AT&T aims to create a significant new revenue stream from the joint business. Specifically, it plans to extend its addressable advertising technology to Time Warner programming, a strategy that takes advantage of the fact AT&T will own both new premium content and the delivery mechanism needed to get that content to consumers. (See AT&T: TW Deal Will Light a Fire Under Video Biz .)
It's a benefit Comcast knows well. (See Verizon, Comcast Prep for TV Ad Tech Wars.)
But can AT&T manage its video business successfully while also waiting for a decision on the Time Warner takeover? The uncertainty is bound to take a toll, and that's without considering all of the other video initiatives the telco is juggling.
AT&T has the money and sheer size to plow forward in video almost no matter what happens, but that doesn't mean it won't take some hits in the short term. With so many issues to work through, the company has to be wishing it could consolidate its video efforts further.
Talk of unifying its video strategy is one thing. Execution is another.
— Mari Silbey, Senior Editor, Cable/Video, Light Reading