Despite being one of the smaller pay-TV providers on the planet, Google Fiber wants everyone to know that a lack of customers isn't stopping it from releasing new product updates.
In a blog post today, Google Fiber Inc. announced that it's rolling out the biggest upgrade to its Fiber TV service since 2012. The update includes a refresh of the user interface and the introduction of personalized recommendations. The news comes amid analyst critiques suggesting that Google Fiber isn't a serious endeavor and word that the service has as few as 69,000 pay-TV subscribers.
There was also a rumor last month that Google Fiber plans to downsize its staff by half, but that bit of gossip has been disputed. (See Google Fiber Downsizing Not Confirmed.)
So what does the Fiber TV update mean? Beyond the fact that parent company Alphabet Inc. wants to assure people that it's still investing in the business, here are two important facts to keep in mind.
---
Want to know more about video and TV market trends? Check out our dedicated video services content channel here on Light Reading.
---
Number 1: Google Fiber has added the one thing to Fiber TV that it's really, really good at -- data analysis. A source close to the company confirmed that the new personalized recommendations are powered by "Google smarts" and not by one of the search-and-recommendation engines like ThinkAnalytics Ltd. or TiVo Inc. (Nasdaq: TIVO)'s Digitalsmiths platform that are popular elsewhere in the pay-TV industry. This opens up a whole new door for Google, which already proactively serves up information online based on user behaviors; information like a particular team's sports scores, the nearest pick-your-favorite-culinary-style restaurant or music you might like. (Editor's Note: The information prompts from Google on my Android phone get a little scarier every day.)
The opportunity now to integrate Google recommendations with the Fiber TV platform means that if Google wants, it can not only highlight shows a viewer might want to watch; it can also deliver meaningful contextual information, and even targeted messages that fall somewhere along the spectrum between helpful pointers and outright advertising. The information flow also goes both ways, meaning that Google can take the information it uses in Fiber TV and apply it to its other online platforms.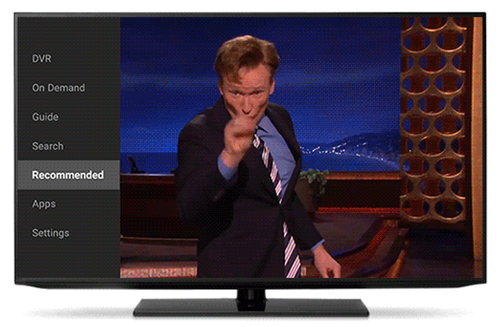 Number 2: Any developments that Google Fiber brings to the Fiber TV platform can also be used for any online video. Chris Levendos, the company's head of network deployment and operations, admitted in April that Google would rather sell an over-the-top video service than its franchise-limited Fiber TV offering. (See Fiber TV First, but Google's Eyeing OTT.)
If the company ever moves in that direction, it will be able to translate capabilities from the Fiber TV platform -- with the platform's built-in, television-specific metadata and usage information -- to any new online vehicle. In fact, if Google ever introduces any new type of IP video offering, whether an OTT service or a service tied to Google-owned wired or wireless infrastructure, it will be able to carry its growing "Google smarts" to that product.
Google is playing a long game with Fiber and Fiber TV. For as small as the service is today, it still has the potential to make a huge impact in the future.
— Mari Silbey, Senior Editor, Cable/Video, Light Reading