Frndly TV isn't out to upend the video market, but the new service founded by a couple of former Sling TV execs believes its focus on a line-up of family-friendly fare at a low price will give some consumers a good reason to give pay-TV another chance.
"From our standpoint, we've never looked at this being a disruptive service," Bassil El-Khatib, Frndly TV's CEO, said. "It really is a play on bringing people back into the pay-TV fold."
The US pay-TV market hasn't been a friendly place, with consumers continuing to flee in alarming numbers. In Q2 2019, the market, including both traditional providers and virtual MVPDs, lost 1.04 million subs, knocking the total base down 2.8% from a year ago.
Denver, Colo.-based Frndly TV is initially targeting its niche with a dozen channels: Hallmark Channel, Hallmark Movies & Mysteries, Hallmark Drama, Game Show Network, Outdoor Channel, Sportsman Channel, World Fishing Network, Light TV, PixL, Babyfirst, The Weather Channel and QVC.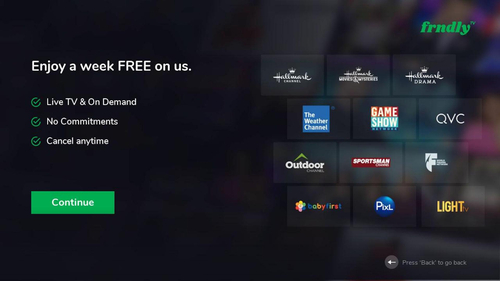 Borrowing a page from the Netflix playbook, Frndly TV is offering three levels of service out of the chute:
An entry-level standard-definition tier with one stream for $5.99 per month.
A "Classic" offering in HD, two streams and a cloud DVR that stores unlimited shows and movies for 30 days for $7.99 per month.
A "Premium" tier in HD with four streams and cloud DVR with a 90-day storage limit for $9.99 per month.
The content slate is the same across all three tiers.
El-Khatib believes Frndly TV offers programming that addresses a neglected portion of the market, and at an attractive price. "There's really not a product out there that's addressing their needs," El-Khatib said. "It's a large, underserved market," he said.
Plans are underway to offer as many as 20 channels before the end of the year without altering a price structure that's intended to stay below $10 per month. "Cost is a prohibitive aspect when people cut the cord," El-Khatib said.
Frndly TV has been going direct to programmers to get its content deals done. El-Khatib said his background and experience at Sling TV and Dish have helped to open a few doors. He isn't ready to say what else will be joining the line-up, but expect those additions to build on the family-friendly theme as there is no intention to create big channel line-ups that replicate what many of the other virtual MVPDs are doing.
"When I look at other [OTT-TV] services, they are trying to go after the mass market," El-Khatib said. "They are trying to be everything to everyone. We said, 'That's not going to be us.'"
While he believes Frndly TV addresses the need of a fairly sizable market, he stressed that "we don't need to have a ton of it to be successful" under the service's business model.
Backed by funding from friends and family, Frndly TV has been in development for about 18 months. Frndly TV soft-launched earlier this month and plans to begin active marketing of the service in the next few weeks.
"We think this will be a big hit for the holiday season," El-Khatib said.
Related posts:

— Jeff Baumgartner, Senior Editor, Light Reading