Fall Is a TV (Industry) Lover's Delight
Call it the back-to-conference season, or the pre-holiday rush, but now is the time the TV industry likes to launch (or at least leak) many of its new products. And not just physical hardware either. This week brought news that Comcast is finally making YouTube available on its X1 platform, and a report that several cable networks are teaming up to offer a new, non-sports skinny bundle powered by the Harvard-born startup company Philo.
Let's unpack that for a moment. We've known about the coming integration of YouTube with X1 for some time now. But with the official launch, Comcast Corp. (Nasdaq: CMCSA, CMCSK) is doubling down on its oft-stated "aggregator of aggregators" strategy. The cable company is also highlighting the importance of its X1 voice remote as an interface for content search and discovery. The key there is not just X1's ability to act on voice commands, but the platform's ability to understand natural language queries and map requests to content that subscribers want to view.
Comcast certainly isn't the only company to go down this path (e.g., Amazon, Apple, Tivo, etc.), but it's rapidly adding to the content stores its language processing technology can access. In turn, that makes the X1 platform more useful in helping customers sift through the many video options available today. (See Comcast Unveils Integrated YouTube App and The Race Is On to Give Entertainment a Voice.)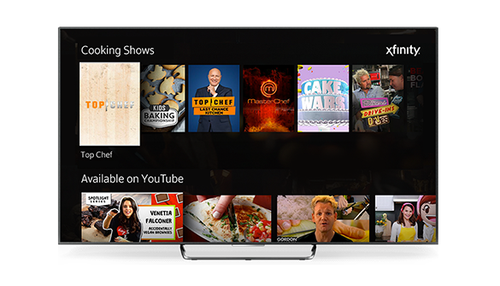 And speaking of video options, word has it that several cable networks -- including A&E Networks, Viacom, Discovery, Scripps and AMC Networks -- are moving forward with plans to launch a skinny bundle for the non-sports-viewing crowd. The Wall Street Journal reports that the companies are aiming for a price point of under $20 a month, although whether there's demand for a bundle with only those particular networks, and no broadcast content, remains to be seen.
Equally as interesting as the possibility of a new bundle is the company that's said to be powering the service. Philo (formerly called Tivli) started out in a university dorm room at the beginning of the decade and evolved its product into a multiscreen OTT video service designed specifically for college campuses. I've always been worried about Philo's prospects in the market given the long shadow of Comcast and its Xfinity on Campus offering. But apparently Philo has found a new way to survive and expand in the OTT video space. (See Philo Raises $10M, Considers New Markets and How Comcast Is Hooking College Kids on Cable.)
A spokesperson for Philo wasn't able to confirm the WSJ report. But I suspect it's accurate, particularly given the interest in the company from investors, including HBO, in recent years. The Philo spokesperson did say the company is "still successfully continuing to grow and expand our college business."
---
Want to know more about video and TV market trends? Check out our dedicated video services content channel here on Light Reading.
---
Beyond the pay-TV providers, no fall TV season would be complete without a retail hardware refresh cycle. To that end, Apple Inc. (Nasdaq: AAPL) announced its latest upgrade to the Apple TV box today at the company's annual September event. The newest Apple TV supports both 4K and HDR, and Apple has agreed to upgrade the HD version of users' purchased titles automatically when a 4K/HDR version becomes available. The news, however comes amid reports that Apple is losing share in the retail set-top market. And given the price point for the Apple TV ($179 for the 32GB version and $199 for 64GB), the company is likely to have difficulty making up ground even with a 4K box on store shelves.
Also in retail media streamer news, word leaked this week that Amazon.com Inc. (Nasdaq: AMZN) has new Fire TV models in the offing. According to AFTVnews, the company is planning to release a new 4K/HDR dongle in the vein of its Amazon Fire TV Stick, as well as a Fire TV cube device that incorporates Alexa voice functionality. There's no official confirmation from Amazon of the products, but AFTVnews expects the dongle to launch next month, and the new cube device to go on sale late this year or early next.
— Mari Silbey, Senior Editor, Cable/Video, Light Reading