Disney+ to Bake 4K, High Dynamic Range Into Baseline Service

Comment (0)
As the November 12 debut of Disney+ draws closer, The Walt Disney Company has shared a few more details about its new streaming service, including support for 4K video and the devices the service initially will run on.
In addition to a selection of titles with more pixels (in 4K), Disney+ also aims to deliver better pixels via the use of High Dynamic Range (HDR). Disney+ will also play up personalization by allowing subscribers to create up to seven individual profiles and each account will allow up to four simultaneous streams, the company revealed late last week at the D23 Expo in Anaheim, Calif., according to CNET.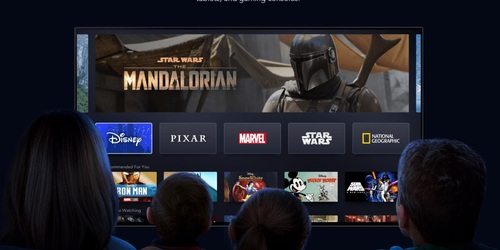 Disney+'s support for premium-level 4K/Ultra High Definition and HDR will be built into its base price of $6.99 per month or $69.99 per year (equating to about $5.83 per month). Disney will also offer a bundle that includes Disney+, the ad-supported Hulu subscription VoD service and ESPN+ for $12.99 per month.
Building 4K into the baseline price signals a different approach than some other popular streaming services that have 4K libraries. Netflix, for example, requires subs to be on its Premium plan for 4K/UHD titles, but Amazon Prime Video doesn't charge extra for its 4K-encoded titles.
Disney+ reportedly will release new episodes of original series every week, rather than going with a Netflix model that releases all season episodes in one fell swoop. Disney+ will also let subscribers download titles to its mobile apps.
Disney+'s features and capabilities have been a source of optimism for some industry experts, including Dan Rayburn, a principal analyst at Frost & Sullivan and chairman of the NAB Show's Streaming Summit.
Disney just announced that Disney+ will support 4 simultaneous streams per account. Also, support for 4K Ultra HD video playback in Dolby Vision ultra-vivid imaging, HDR10, and Dolby Atmos immersive audio on supported devices. #DisneyPlus is going to be an amazing service. pic.twitter.com/XXh170Lwec

— Dan Rayburn (@DanRayburn) August 24, 2019
Disney+ will be entering a crowded SVoD market and will be fighting for consumer dollars already going to general entertainment streaming services such as Netflix, Disney's own Hulu service and a multitude of smaller niche services, as well as new direct-to-consumer OTT offerings coming from AT&T's WarnerMedia (HBO Max) and Comcast's NBCUniversal.
Disney has already forecast that Disney+ will nab 60 million to 90 million subscribers worldwide by the end of fiscal 2024, with two-thirds expected to come from outside the US. Disney+ is being developed as a direct-to-consumer service, but a new pay-TV pact with Charter Communications "contemplates" the distribution of Disney+ as well as the Disney-owned Hulu service. That deal could serve as a blueprint as Disney reups with other pay-TV providers.
The Mouse has also announced the streaming platforms that will run the service early on -- iOS and Android mobile devices, the Xbox One and PlayStation 4 gaming consoles, Apple TV boxes and Roku players and Roku TVs.
Conspicuously absent from that list is Amazon's Fire TV platform (for players and integrated smart TVs) and Google's Android TV and Chromecast platforms.
Disney execs have left the door open to more device support. Michael Paull, president of Disney streaming services and a former Amazon exec, told CNET that the initial list of platforms represents those that have agreements with Disney+ and that more devices could be added before the November 12 launch.
Pulling from franchises and properties such as Pixar, Marvel, Star Wars and National Geographic, Disney+ is expected to start off with about 7,500 TV episodes, 400 movies, 25 original series and 10 original series. Examples of originals in the hopper include The Mandalorian, Noelle, The World According to Jeff Goldblum and a new series with ties to the High School Musical movies.
Disney released the first trailer for The Mandalorian, a series set in the Star Wars universe, last week:
Related posts:

— Jeff Baumgartner, Senior Editor, Light Reading