DENVER -- Programmers and media companies must have a direct-to-consumer option in their playbook in the OTT era, but their overall distribution playbooks must remain diversified, a top exec at premium programmer Showtime says.
"You have to play in the direct-to-consumer arena, but I don't think that will be the only arena," Tom Christie, Showtime's COO, said here Tuesday during a keynote conversation at The Pay TV Show, an event put on by Fierce parent Questex.
He said Showtime and other networks need to stay attached to cable operators and other traditional MVPDs (multichannel video programming distributors), which are losing pay-TV subs but aren't going away any time soon. At the same time, he said, programmers must also forge distribution deals with a new wave of virtual MVPDs, as well as OTT aggregation platforms that have been launched by players such as Amazon, Roku and Apple.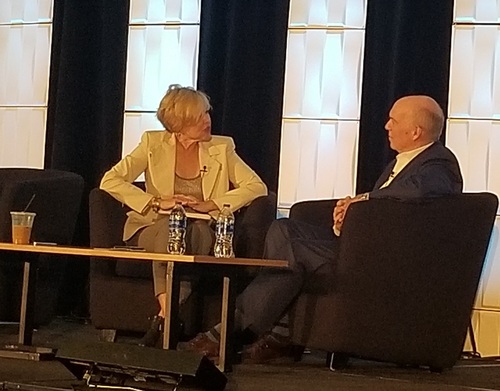 Although the distribution conversation has been leaning toward OTT and virtual MVPDs that offer slimmed-down channel packages, that discussion is beginning to shift as those new streaming options are forced to raise rates, giving them more pricing "parity" with the pay-TV services of cable operators and telcos, Christie said.
For programmers, those distribution bets need to be spread around, Christie said. He noted that traditional MVPDs will continue to respond with skinny TV bundles of their own that appeal to the kind of consumers who have taken or considered OTT-TV options.
"I'm waiting to see if... the traditional guys put some [video] subs back on," Christie said. "I could be dead wrong about this, but it wouldn't shock me."
He said Showtime, which launched a standalone, direct-to-consumer offering in 2015, also must be wary of churn. He said the programmers is looking at how to reduce churn's impact as OTT subscribers come and go on a month-by-month basis once the shows or series they like finish off a season or come to an end altogether.
"There's a lot of re-subscription going on... You do see people come in and out," he said. "We know when someone has left and what they watched, and we re-contact them."
To help keep that churn in check, Showtime is challenged to figure out which new shows to pair with existing, already popular series, such as Billions.
Now that Showtime has access to more consumer data as its OTT audience continues to scale up, it has more information to act on and to help fuel its programming strategies, Christie explained.
Christie also acknowledged that the market for good, original content has never been tougher. Rather than competing with just HBO, Starz and other cable networks for good story ideas and talent, Showtime is now also battling with Amazon, Apple, Netflix and Hulu.
"To use a sports analogy, it is free agency on steroids," Christie said, noting that some of these competitors have pocketbooks that "are frankly bigger than Showtime's."
And Showtime has to be smart about what it does buy. "We're looking for core [shows] to anchor the network," he said. "The next exercise is to go younger and more diverse and to broaden our appeal to compete against some large, powerful competitors [that are] out there."
Selling or syndicating the network's original shows and series to other streaming outlets has its pros and cons, he said, and, for programmers like Showtime, it has been a "contentious issue."
If Christie had his way, he would avoid selling any Showtime originals to others so those shows would remain integrally linked to his network. However, offering past seasons of Shameless on Netflix did result in an uptick in Showtime subscriptions and viewership when a new season of that series debuted on the premium network, he said.
Related posts:

— Jeff Baumgartner, Senior Editor, Light Reading