Getting all of the 'Big 4' local broadcast channels -- ABC, CBS, NBC and Fox -- on OTT streaming services has been a difficult (futile?) endeavor.
Aereo tried to do it and got stomped into the ground when it captured over-the-air TV signals via an array of tiny antennas and shipped those signals to customers without inking retransmission consent deals with the broadcasters. In that case, it was definitely not easier to ask forgiveness than it was to ask permission, especially when broadcasters were out for blood. (See Aereo Gets A Kick in the Ass(ets), Last Chapter (11) for Aereo and Aereo Seeks Pay-TV Operator Status.)
Some virtual MVPDs (multichannel video programming distributors) have had better luck, though carriage of all four major broadcasters in a given local market is still pretty spotty, unless you happen to get service from the right OTT provider and happen to live in the right market.
Meanwhile, Locast, a non-profit that has a local TV streaming service in New York, Houston and Dallas, claims it is operating under a copyright statute that lets "broadcast translators" receive and transmit primary local broadcast TV stations without a copyright license. Locast has (so far) avoided any legal entanglements with the broadcasters.
Didja, a startup based in Los Altos, Calif., is also trying to tackle the local TV streaming version of Mission: Impossible. The general idea is to capture over-the-air TV signals at local data centers and redistribute them locally (using geo-fencing) via the Internet to mobile and TV-connected devices. That's all backed up by a slick interface, targeted advertising and a cloud DVR.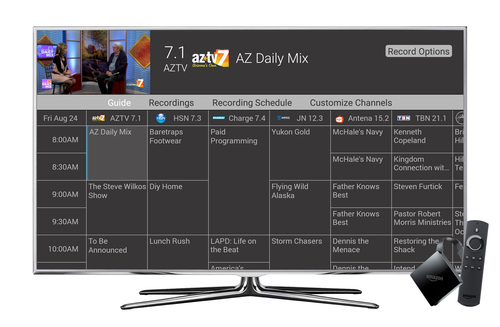 As a critical part of its approach, Didja is also going through the hoops and headaches of obtaining permission from the local broadcaster to carry the programming as it seeks to meet the needs of cord-cutters and consumers who want access to local TV but can't obtain a decent over-the-air signal with an antenna.
It's early days, but Didja currently is piloting its "LocalBTV" product in three markets: Los Angeles/Orange County (branded as SoCalBTV), the San Francisco Bay Area (BayAreaBTV) and Phoenix, Ariz. (PhoenixBTV). It's got about 5,000 users on board in each of those markets.
The initial version of the product is free and delivers a line-up of between 30 to 40 local broadcast channels in the local market, but not any of the Big 4.
Didja's longer-term plan centers on a "freemium" model -- a baseline, free offering with up to 60 channels alongside a paid premium version of the service that features the major broadcasters and a cloud DVR.
Didja will also help broadcasters sell targeted ads, but it expects the majority of its revenues to come from premium subscriptions at a price that is "closer to $15 per month than $20," says Jim Long, Didja's CEO.
The long pole in that tent is getting the major broadcasters to get on board with the program.
And a major obstacle is to convince those major broadcasters to view Didja through a different kind of lens. Given their success with pay-TV bundles, "everything looks like a nail" to most broadcasters, Long says. "They want to hammer us like we're a skinny bundle."
Long contends that the LocalBTV angle is not a skinny bundle or a national brand akin to the virtual MVPDs. The aim is to go with a low-margin product that can make up financial ground through targeted advertising.
"We're using the Internet as an antenna. We have to fight for our business model. We're not going to sign a deal that looks like a skinny bundle," Long said.
Talks are ongoing and Didja believes it's making progress overcoming historic objections and that broadcasters are starting to understand the value that Didja claims it can deliver. "But that doesn't mean we're not over the fact that we're small," Long explained. "But, guess what? We can't get big without them."
Didja is still working on that long game. In the meantime, it's serving the short term by expanding to more platforms. After starting off with iOS and Android apps (with TV casting capabilities) and access on web browsers, Didja's localized service is now available as an app on Amazon Fire TV and Apple TV devices, with Roku planned.
Didja actually hoped it could avoid supporting TV-connected players, but "the biggest surprise I've had is that these streaming players are now becoming the orchestra leaders of our television lives," Long said. "Those boxes are becoming the power broker."
Didja, which landed $12 million in funding late last year, is also feeding data to Nielsen.
As it firms up its platform and service, Didja aims to eventually expand into other major US markets such as Houston, Chicago, New York, Miami, Atlanta and Washington, D.C. It's also considering partnerships that can bring the offering to smaller markets.
— Jeff Baumgartner, Senior Editor, Light Reading