Cord-Cutting Pace Slows in Q2

Comment (0)
It may be too early to call it a long-term trend, but the pace of video cord-cutting showed a slight improvement in the second quarter, according to MofettNathanson's latest "Cord-Cutting Monitor."
And by slight, we're not kidding -- the rate of decline improved to 3.3% in Q2 compared to 3.4% in the last quarter, MoffettNathanson LLC said.
Analyst Craig Moffett acknowledged that a one-tenth of 1% improvement doesn't mean the industry has necessarily reached an inflection point (after all, we're still early into the cord-cutting era), but he stressed that it did mark the second consecutive quarter that saw fewer subscriber losses than in the corresponding quarter last year.
And with some assumptions built into subscriber growth from the OTT TV market (several pay-TV streaming services, such as YouTube TV, Hulu and PlayStation Vue don't disclose subscriber figures on a regular basis or report them at all), total live TV subscribers -- from traditional and virtual multichannel video programming distributors (MVPDs) -- may have grown in Q2. If that's true, it would be the first time that pay-TV has pulled down a positive number since 2012, Moffett noted.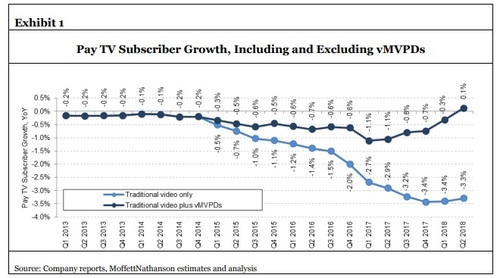 Admittedly, MVPDs got some help from new household formation, as US Census Bureau data showed that there was an increase of nearly 500,000 occupied homes in Q2, up from flat growth in the year-ago period.
"Certainly, no one would suggest that the cord-cutting phenomenon is behind us," Moffett explained in the report, pointing out that the Walt Disney Co. (NYSE: DIS) is still being aggressive with a direct-to-consumer play and Amazon.com Inc. (Nasdaq: AMZN) has yet to go "all-in" on a video strategy. Meanwhile, T-Mobile US Inc. is forging ahead on its pay-TV plans even as Apple Inc. (Nasdaq: AAPL) remains more or less on the sidelines. (See Sling TV Sputters in Q2 and T-Mobile Promises 'A Lot of Firsts' for New OTT TV Service.)
"The cord-cutting story is still in its earliest chapters," Moffett emphasized.
But the latest numbers counter a consensus that the cord-cutting trend will only continue to accelerate, causing Moffett to wonder if the view on cable and media/programmers has been too bearish.
Without the most bullish OTT TV subscriber estimates baked into the model, the pay-TV sector lost about 158,000 subs in Q2. Broken down further, traditional pay-TV providers lost 849,000 subs in Q2, narrowed from -973,000 a year earlier. Virtual MVPDs, meanwhile, added 691,000, versus 400,000 in the year-ago period. The total US pay-TV base was 97.22 million at the end of Q2 (91.18 million traditional pay-TV, and 6.03 million via virtual MVPDs).
While the rate of cord-cutting slowed in Q2, satellite TV losses continue to mount. DirecTV (now part of AT&T Inc. (NYSE: T)) and Dish Network LLC (Nasdaq: DISH) have lost about 5.1% of their customers over the past four quarters compared to 1.9% among cable operators.
Though the emphasis tends to be on subscriber growth rates, in Moffett's view the "real number" to watch is the conversion rate -- the ratio of losses by traditional pay-TV to gains by virtual MVPDs. He estimates that the average conversion rate has been hovering at about 85%.
That, he said, equates to good news for media companies, especially for those that have channels that are in most or all of the OTT-TV services. That's partly because programmers tend to command richer carriage rates on OTT-delivered services that are still starting to build up their respective subscriber bases.
"Just as we've been hesitant to embrace the sky-is-falling mentality that has gripped the investment community over the past three to six months, we'll resist the temptation to suggest that the minor inflection seen in Q2 is a harbinger of a lasting turn," Moffett concluded. "The truth is, it's too early to tell."
— Jeff Baumgartner, Senior Editor, Light Reading
PARTNER PERSPECTIVES
- content from our sponsors
GUEST PERSPECTIVES
- curated contributions