Comcast Finds More Work for X1
Comcast continues to create new use cases for X1, its cloud-based, IP-capable video platform.
After deploying it across its own residential footprint (about 60% of the MSO's video sub base is now on X1), Comcast has since sought other deployment models for X1 in ways that drive more scale into the platform's ecosystem while also recouping some of the development costs.
That expansion story included a version of X1 for college campuses, called Xfinity on Campus, as well as syndication deals with a handful of other large US and Canadian cable operators -- Cox Communications Inc. , Rogers Communications Inc. (Toronto: RCI), Videotron Ltd. and Shaw Communications Inc. . (See Rogers Sparks 'Ignite TV' Using Comcast's X1 and Comcast's Xfinity On Campus Shares Info, Shows Growth.)
The next step along that path is bringing X1 to the hospitality industry. (See Comcast Business Launches X1 for Hospitality.)
That effort, driven by Comcast's business services unit, was introduced in June, and is currently in an "extended trial period," according to Jeremy Andreoli, executive director of video product, strategy and business development at Comcast Business .
He estimates that this "nuanced" version of X1 is being tested in about ten hotels. Those on board early on include the Four Seasons Hotel that's part of the new Comcast Technology Center in Philadelphia (the hotel is slated to open in mid-2019), and the Hilton Denver Inverness hotel located just south of Colorado's capital city.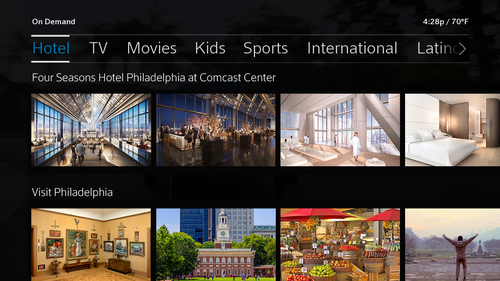 The hospitality-facing version of X1 includes many of the features found in the residential offering, including a voice remote, live TV, access to a cloud DVR, a library of free VoD titles and integration with a selection of OTT apps. The hotel version of X1 also features hotel-branded channels, supports Netflix today and is set to add Amazon Prime Video sometime next year. (See Amazon Prime Video to Stream to Comcast's X1 Boxes.)
The general goal is to create a "home-away-from-home experience," Andreoli said.
It's also an upgrade opportunity, as the X1 product for hospitality does carry a premium over the legacy video products that Comcast Business offers to hotels. That includes those delivered to traditional set-top boxes or HD-capable Digital Transport Adapters (DTAs), which are one-way channel zappers. Comcast has also teamed up with third-party hospitality industry-focused companies such as Sonifi and Enseo.
The new X1 effort is taking shape as it's become clear that hotels want more advanced and customizable video platforms for their guests. Earlier this week, Spectrum Enterprise , the business service division of Charter Communications Inc. , announced a partnership with Moviebeam as part of an effort to beef up its video product for hotels. (See Charter Unit Checks In With Up-Market Video Move .)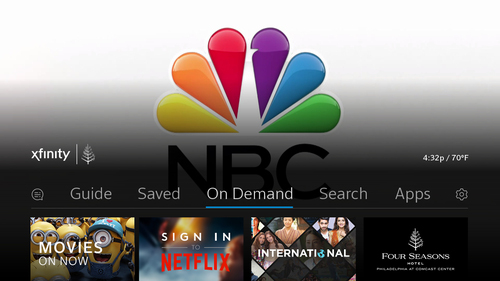 Comcast is also working to bring more concierge-style apps and features to the hotel version of X1. By tying into the hotel's property management system, for example, X1 could enable guests to view their bill, check out and order room service. The initial phase of that integration is focused on resetting the box to clear out things like a guest's Netflix credentials and shows recorded to the cloud DVR.
The version being tested today is all IP-based, with Comcast connecting to the hotel system via a Metro Ethernet connection and a demarcation device that enables the signals to ride the hotel's Ethernet connection to an IP-based X1 client device such as the Xi6 or Xi5.
Comcast is also developing an iteration of X1 for hotels that would be delivered over the operator's HFC network, a move that would enable the operator to make the offering available to a much greater number of hotels in its footprint.
Andreoli said Comcast Business is also starting to explore other opportunities with X1 that would enable the platform to deliver services to larger businesses and sporting venues. An early example where that is happening is SunTrust Park, the new home of the Atlanta Braves in the Atlanta suburbs.
— Jeff Baumgartner, Senior Editor, Light Reading
UPCOMING LIVE EVENTS
June 6-8, 2023, Digital Symposium
June 21, 2023, Digital Symposium
December 6-7, 2023, New York City
All Upcoming Live Events
PARTNER PERSPECTIVES
- content from our sponsors