Cloud DVR Is a Killer App... Just Not in 2015
CHICAGO -- Big Telecom Event -- High-speed data was a killer app for terrestrial networks 15 years ago and cloud DVR is arguably the next big thing for network operators. So says Harmonic senior vice president for video products Bart Spriester, who spoke at Light Reading's inaugural Video Summit here at the Big Telecom Event in Chicago.
According to data from Parks Associates , the number of subscribers to cloud DVR services still falls well below the 5 million mark globally, but by 2018 that total should roughly quintuple to around 25 million subs. And, anecdotally, Spriester can confirm that more than half of the operators he's talked to in his position at Harmonic Inc. (Nasdaq: HLIT) have either already implemented cloud DVR or are seriously considering a deployment in the near future.
"It's a great way to leverage a terrestrial network," said Spriester, speaking on a cloud DVR panel moderated by Light Reading's cable video practice leader Alan Breznick.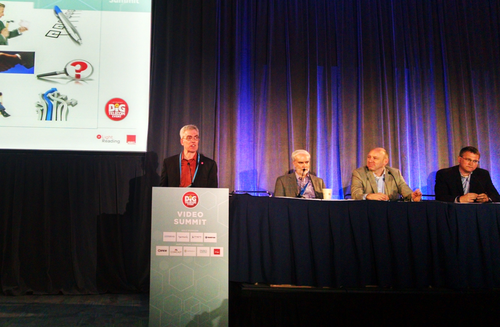 Comcast Corp. (Nasdaq: CMCSA, CMCSK)'s vice president of video product management, Elad Nafshi, agreed, and he has the direct experience to back it up. As one of the world leaders in cloud DVR -- and a winner of this year's Leading Lights award for Best Most Innovative Video Service -- Comcast has already deployed a richly featured service to numerous X1 markets across the US, and it plans to offer the cloud DVR product to its entire subscriber base by the end of the year. (See Leading Lights Awards 2015: The Winners and Comcast Cloud DVR Takes Flight.)
For Nafshi, the purpose of cloud DVR goes far beyond video time-shifting. Cloud DVR gives Comcast users a consistent interface across multiple screens; it allows subscribers to schedule recordings from anywhere; and users can navigate video playback across a range of devices. Comcast doesn't charge extra for the service because the company sees the value in creating a more engaging product.
"It's not just about recording in the cloud," said Nafshi, "but how you make that [service interaction] more meaningful across the entire experience."
---
Check out all the news and views from the 2015 Big Telecom Event at Light Reading's dedicated BTE show news channel.
---
Unfortunately, there are challenges with cloud DVR, and that's what's made the technology relatively slow to roll out. For example, as Nafshi pointed out, operators need an elastic platform for service delivery that can handle spikes in bandwidth demand -- not just for consumption but also for video ingest. And bandwidth isn't the only issue. In the US, because of regulations that force operators to maintain an individual copy of a program for each subscriber that records it, storage requirements are also significant.
However, even while the difficulties mount, so too do the new technologies that help mitigate those challenges. Yuval Fisher, CTO for the MVPD segment of Imagine Communications , noted that just-in-time video transcoding wasn't economically viable even a year ago, but today it is. Video compression also keeps improving, and efficiency gains from network virtualization are on the horizon.
Beyond offering a cost advantage, cloud DVR also reduces operational headaches by taking dedicated set-tops out of the equation. In moving to the cloud, operators can maintain and upgrade services much more quickly. There's no need to swap out hardware in millions of homes just to offer additional TV tuners or greater storage space. Instead, operators can simply provision new features remotely via software.
Nafshi said he believes the pace of innovation will accelerate now that back-office systems are even more closely integrated with service delivery. It may take a few years for cloud DVR to earn its killer app status, but once it does, the technology -- and all of the underlying work done to support it -- can be a foundation for further service development into the future.
— Mari Silbey, Senior Editor, Cable/Video, Light Reading
PARTNER PERSPECTIVES
- content from our sponsors