Seeking to hit the higher end of the hotel market and raise its video game against satellite TV competitors, Charter's Spectrum Enterprise unit has teamed with Moviebeam on a platform that integrates a sizable HDTV lineup with a mix of other apps and interactive services.
Spectrum Enterprise , the business services division of Charter Communications Inc. , said the new offering combines its Fiber Connect Plus TV service and its lineup of 200-plus HD channels with a platform from Moviebeam that enables hotels to create customizable video front ends. The new offering also stitches in support for third-party streaming apps, as well as those developed by hotel properties. In addition, the system enables hotel guests to "cast" content from their smartphones or tablets to the TV using a Chromecast adapter or via AirPlay without needing to re-enter their credentials.
According to Moviebeam , its system is capable of supporting a range of OTT apps, including YouTube, Crackle, Netflix, Pandora and Hulu, as well as a "Showtime Free" feature that offers up to 250 hours of shows from the premium programmer. Other Moviebeam VOD content partners include Lionsgate, 20th Century Fox, Magnolia Pictures and Relativity.
The Moviebeam deal will help Spectrum Enterprise shore up and expand its video offering for the hospitality market and complement its other hotel-focused services, including Internet access, managed WiFi and hosted voice services. It will also allow Spectrum Enterprise, which works with more than 16,000 hotels, to hit a broader slice of that market as hotel brands look to deliver a common look and feel across their properties. (See US Cable Set to Rake in $18B in Biz Services Revenues in 2018.)
"We now fill a hole we had in the upper end" of the hotel market, said Peter Agnvall, vice president of Enterprise TV at Spectrum Enterprise. "There's a subset of the market that looks for this solution."
Before Moviebeam entered the picture, Spectrum Enterprise's video offering was more relegated to linear TV and a guide delivered through other platforms, including a "set-back" box that used older CableCARD technology. (See Charter Deploys ADB's 'Set-Back' Box.)
Agnvall said Spectrum Enterprise is likely to take the sales lead with the combined Moviebeam platform.
Update: Spectrum Enterprise has right of first refusal with Moviebeam within Charter's footprint. Previously it was reported here that Spectrum Enterprise's agreement with Moviebeam was exclusive in the Charter territories.
In addition to opening up new opportunities with its current hotel partners, Spectrum Enterprise also hopes that the new offering will enable it to take away some share from AT&T Inc. (NYSE: T)'s DirecTV and Dish Network LLC (Nasdaq: DISH), which also have hotel-focused video offerings. Of recent note, Dish last year launched Evolve, a 4K-capable, Android TV device and UI that's tailored for the hospitality sector and capable of weaving together TV with Google Play apps.
Spectrum Enterprise is just now heading to market with this, so it doesn't have any installations to point to yet. However, it is working on a set of orders, according to Agnvall.
Moviebeam trivia
Moviebeam, now a developer and integrator of interactive guest services, might be a familiar name to some readers.
Long before taking its current form when the "B" in its name was still capitalized, MovieBeam, founded by Walt Disney Co. (NYSE: DIS) in 2002, initially focused on a consumer service that delivered HD movies-on-demand using datacasting technology via a network of PBS broadcast stations. Users accessed and used the service via an antenna and a TV-connected box/player.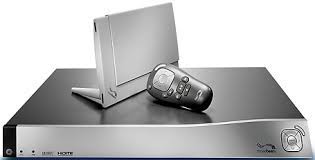 That version of MovieBeam was acquired by Movie Gallery in 2007, and the service was shut down later that year after Movie Gallery entered a Chapter 11 reorg. Valuable Technologies acquired Moviebeam in 2008 and focused those assets on the delivery of digital content to the hospitality sector. (See Revamped MovieBeam Seeks Slice of VOD Pie, Gallery Buys MovieBeam and Indian Firm Buys MovieBeam Assets.)
— Jeff Baumgartner, Senior Editor, Light Reading