Charter Has a Secret TV App for Colleges
Comcast has proudly touted its Xfinity on Campus product for colleges and universities, but it turns out that Charter too is going after the higher education market, albeit much more quietly.
Since at least as far back as 2014, Charter Communications Inc. has been piloting an app called SpectrumU for streaming live television on college campuses. It appears that the app only debuted at a couple of schools in the early days, with another handful of campuses added to the roster in 2016 and 2017. Documentation suggests that the later schools joined Charter's pilot program with the launch of SpectrumU 2.0 in July of 2016. The app has continued to receive updates since, with the latest version for iOS released nine months ago, and the latest version for Android pushed live in June.
Light Reading requested information from Charter on SpectrumU, but received no response.
First, here are the basics of the service, as compiled from information including an online manual, mobile app stores and select college websites. SpectrumU is part of Charter's business services portfolio, and schools that qualify to pilot the app also have to subscribe to traditional Charter TV and fiber Internet services. The channel lineup is a subset of what Charter makes available over clear QAM (i.e. the channels it broadcasts to digital receivers without any additional encryption), and one school lists A&E, CNN, Lifetime and MTV among the networks on offer. Charter says SpectrumU carries more than 50 channels in total, but notes that local and premium stations may not be available in all markets.
The company also recommends that schools set aside a gigabyte of dedicated bandwidth for every 5,000 students served.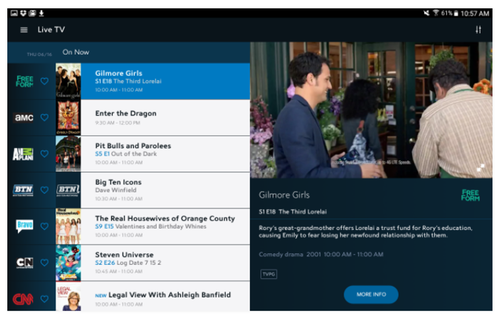 As for product features, SpectrumU includes an interactive program guide, options for "favoriting" and filtering channels, the ability to set program reminders and (on iOS) a Sport Zone function with information on past, present and future sporting events.
Unfortunately for subscribers, however, SpectrumU is also missing a number of critical features. It doesn't offer digital video recording, video on demand, options to upgrade, support for campus-specific channels or screen casting. Most importantly, it's only available on iOS, Android and Kindle Fire devices. That means no access on computers, streaming media boxes like the Roku or Apple TV, game consoles or smart TVs.
---
For more cable market coverage and insights, check out our dedicated cable content channel here on Light Reading.
---
For pay-TV providers, marketing to a college audience is important both because of the short-term revenue opportunity and the chance to establish behavioral patterns that could lead more students to sign up for cable service after graduation. It's not evident if the latter function is having an effect yet, but when service providers figure out a better way to bridge the gap between student accounts and post-graduation subscriptions, the campus sales channel should hold greater potential. (See How Comcast Is Hooking College Kids on Cable.)
Piloting new services on campus sites is also a way for providers to test out new product iterations. Charter has shown an interest in trialing different products with different audiences -- consider the skinny bundle service known as Spectrum Stream as an example -- and SpectrumU indicates that the company sees the university market as yet another avenue for experimentation. (See Charter Dips Into Skinny TV With Stream.)
What's not clear, however, is why Charter would introduce a product like SpectrumU, but not dedicate the necessary resources to make it more compelling. SpectrumU's feature set is nowhere near competitive with popular OTT apps, and Charter hasn't gained traction on college campuses the way that Comcast Corp. (Nasdaq: CMCSA, CMCSK), startup Philo and Dish Network LLC (Nasdaq: DISH) (with Campus Televideo) have.
So far, there is evidence of SpectrumU deployments with Hobart and William Smith Colleges, Nazareth College, St. John Fisher College, St. Louis University and the University of Wisconsin school system. There is no word on whether that list will grow or how, or if, Charter plans to develop SpectrumU further.
For now, SpectrumU remains largely on the sidelines, and Charter isn't sharing further details on its strategy for the college market.
— Mari Silbey, Senior Editor, Cable/Video, Light Reading
PARTNER PERSPECTIVES
- content from our sponsors