After a decade or so of attending CES, I know how to manage (mostly) the combination of anticipation and dread that comes with preparing to head out to Vegas to see more than 100,000 of my closest friends. And one way to get a handle on the enormity of the event is to consolidate the content I'm interested in into a few broad categories. With that in mind, here are three of the big trends I'll be watching at CES 2016. Stay tuned for on-site reporting (and plenty of visuals) next week.
Virtual reality In past years I've walked away from CES with funny pictures of people wearing 3D glasses. In 2016, that image is sure to be replaced with photos of people decked out in VR goggles. Thanks to the deep pockets of Facebook and Google (Nasdaq: GOOG), and innovation from small companies and big brands like Samsung Electronics Co. Ltd. (Korea: SEC), virtual reality is on the verge of creating a mainstream presence. From the CES PR pitches flooding in, I've seen hints of everything from new VR cameras and chips for virtual reality gaming to interactive VR tabletops, VR motion controllers and -- you knew it was coming -- VR streaming of adult entertainment. (Side note: Let's not forget the origins of CES, and the connections to the adult industry that persist today.)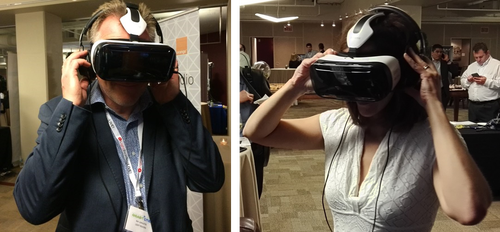 According to the Silicon Valley consultant firm Digi-Capital, investment in the virtual reality market jumped by a factor of six between the second quarter of 2014 and the second quarter of 2015. And the Consumer Technology Association (no longer the Consumer Electronics Association) says there will be more than 40 companies exhibiting at CES this year specifically in the Gaming and Virtual Reality Marketplace. That's not including the big names like Intel Corp. (Nasdaq: INTC) that are also likely to have VR demos in their central area booths.
Naturally, VR investment is going to have a big impact on communications networks. That aspect will be less evident at CES, but you can be sure the service providers in attendance will be paying attention to the networking implications. (CES is as much -- if not more -- about back-room deals and debates as it is about the demos on the show floor.) Compression technologies like the patented solutions NextVR has for shrinking VR streams down to bit rates of 6 Mbits/s to 8 Mbits/s are going to become increasingly important, as are software tools for network resource management. (See The TV of Tomorrow Is All Digital, Virtual.)
In fact, virtual reality may become one of the most worthy challenges of the New IP era. VR applications are one thing. Developing the infrastructure to support those VR apps, many of which will be seen first at CES 2016, is quite another.
IoT at home Like last year, research firm Parks Associates will once again host its Connections Summit at CES 2016 focused heavily on the Internet of Things and smart home technologies. But this year the smart home stakes have risen considerably. Now we have Amazon.com Inc. (Nasdaq: AMZN) and Google overtly competing to own the IoT hub in the home with the Echo and OnHub products, while cable and telecom companies are also consolidating their strategies for delivering smart home services both through their own equipment and software platforms, and with the help of popular gadgets like the Nest thermostat and August smart locks. (See Xfinity Home Nets Nest & More.)