'AT&T TV' Streams Into 10 Test Markets
AT&T TV, a new streaming service that features an Android TV box, a cloud DVR and a handful of service tiers, debuted Monday in ten US test markets in California, Kansas, Florida, Missouri and Texas.
Prior to a later national launch expected by the end of the year, AT&T's new OTT-TV offering, paired with the tagline of "It's Televisionary," is initially available in the following cities: Orange County and Riverside, Calif.; West Palm Beach, Fla.; Topeka and Wichita, Kan.; St. Louis and Springfield, Mo.; and in Corpus Christi, El Paso, and Odessa, Texas.
As reported by Cord Cutters News, a website for AT&T TV appeared temporarily on Sunday (August 18) that listed those initial launch markets. The site also reiterated some other service details about AT&T TV that appeared earlier, including a VoD library with 55,000 titles, 500 hours of DVR storage (recordings expire after 90 days), and a 4K-capable Android TV box that integrates thousands of third-party apps such as Netflix and Pandora, and a voice remote powered by the Google Assistant platform.
The fine print for AT&T TV confirms that it's an OTT service that allows three concurrent streams per subscriber. While AT&T TV can work with any broadband connection, the promo recommends AT&T's Internet 25 plan (with 8 Mbit/s per stream suggested for "optimal viewing"). To encourage service bundling, AT&T is offering a $20 discount for the first 12 months of AT&T TV when combined with the company's Internet service, Cord Cutters News reported.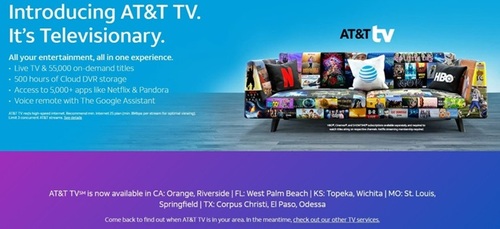 The limited batch of information leaked on Sunday did not spell out pricing and packaging for AT&T TV, though the new offering is expected to deliver channel packages that are similar to the larger bundles provided by the DirecTV satellite TV service. DirecTV Now, the no-contract, skinny bundle OTT-TV service, is being rebranded as AT&T TV Now.
AT&T has been asked for further details, but Cord Cutter News said the company confirmed that AT&T TV will debut in the initial ten test markets on Monday (August 18). Light Reading will update the story as more specific details about the test market launches become available.
Update: The AT&T TV site went live again on Monday, and will stay that way, according to a company official.
AT&T is marketing AT&T TV as a standalone service and as a bundle with the company's broadband service. But rather than taking the no-contract path of AT&T TV Now, allowing customers to cancel at any time, the new AT&T TV service is more traditional in the sense that customers need to sign up for a contract.
Here's how pricing stacks up for the five different tiers of AT&T TV service available early on (Entertainment, Choice, Xtra, Ultimate, and Optimo Más):
Entertainment: Standalone service is $59.99 per month for the first 12 months. Tier includes the VoD library and the 500-hour cloud DVR service, along with HBO, Cinemax, Showtime and Starz for free for the first three months. Price rises to $89.99 per month with Internet service. Prices also rise in second year of the contract.
Choice: Standalone service is $64.99 per month for 12 months. Service includes the content in the Entertainment offering, plus more than 20 more channels, including MLB Network, Tennis Channel, and Sundance TV. The fee for regional sports networks is an extra $8.49 per month. The monthly price jumps to $94.99 per month with Internet bundled in. Pricing also rises in second year of the contract.
Xtra: Standalone service is $74.99 per month for 12 months. Service includes the channels in the Choice package, plus 20 more, including Golf, and National Geographic Wild. Subs on the Xtra package must also pay $8.49 per month more for regional sports networks. The price rises to $104.99 per month with the Internet service bundle. The price on the standalone and bundled options rise in the second year.
Ultimate: Standalone version fetches $79.99 per month, and adds in channels such as El Rey, several Starz channels, and Univision Deportes Network. The current iteration of the site did not spell out pricing when Ultimate is bundled with broadband.
Optimo Más: Standalone version is $64.99 per month, and adds on specific channels such as Antena 3, Atres Series, Azteca, Baby TV, Bandamax, Canal Once, Caracol TV, Centroamérica TV, Cine Sony, and CNN En Español, among several others.
The OTT-delivered AT&T TV service is entering the picture as AT&T revamps its pay-TV offerings, looks to focus on more profitable customers and packages, and attempts to get its video losses under control. AT&T lost 778,000 legacy "premium" pay-TV subs (mostly DirecTV satellite TV subs along with some U-verse TV subs) in Q2 2019.
By using OTT and an inexpensive Android TV box, AT&T is also hoping to vastly reduce its operational and capital costs for pay-TV. The required equipment for AT&T TV will cost a lot less than DirecTV satellite TV, and the OTT delivery method and use of a streaming media player used for AT&T TV will likewise allow AT&T to adopt a self-install model.
Related posts:

— Jeff Baumgartner, Senior Editor, Light Reading
PARTNER PERSPECTIVES
- content from our sponsors