A new report by financial analyst firm MoffettNathanson doesn't mince words about Dish Network's prospects. In addition to trashing the value of Dish's spectrum holdings, which were supposed to prompt a sale of the company, the report suggests that Dish's core video business is circling the drain.
Citing an estimated 9% annual decline in the satellite TV provider's video subscribers, MoffettNathanson LLC analysts write that "Dish's core business is now almost certainly worth less than its accumulated debt." Further, the analysts see no reason for optimism in the future. They note that Dish Network LLC (Nasdaq: DISH)'s only video success seems to come from its virtual MVPD service known as Sling TV, and "with industry-wide gross margins in the vMVPD business at or below zero, it is reasonable to simply ignore Dish's Sling TV subscriptions as economically irrelevant."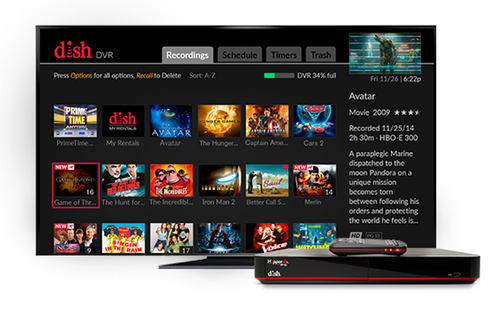 How did Dish get here?
Sadly, the satellite TV company has been one of the most innovative video providers on the market. Dish was the first major operator to integrate Netflix into its set-tops, an early proponent of native 4K support and the company behind products like the portable video solution known as HopperGO and the AirTV Player, which combines online and over-the-air content in a single unified interface. (See Dish Hopper 3 Adds Netflix 4K, Dish's HopperGO Is a Go and Dish AirTV Launch Pairs OTA & OTT.)
Dish was also, of course, the first major pay-TV provider to launch an OTT service more than two and a half years ago with Sling TV. (See Dish Slings OTT Service – What It Means.)
However, Dish's innovation hasn't been rewarded, and that comes down to the simple fact that the service provider doesn't own an Internet pipeline. Instead of a two-way interactive network, Dish is reliant on satellite transmissions for delivering TV. And, as evidenced by how quickly AT&T is scurrying away from the satellite TV business, that network infrastructure doesn't cut it in today's video world. (See AT&T Wants to Ditch the Dish.)
Dish runs into two issues with its satellite network. First, it's not as flexible as an IP-based infrastructure, and second, Dish can't offset the cost of rising programming fees and counter cord-cutting by bundling satellite video with its own consumer broadband service.
As the MoffettNathanson report opines, other service providers, and particularly Comcast Corp. (Nasdaq: CMCSA, CMCSK), are buffering against cord cutting and the move toward cheaper video services by offering broadband at a discount when combined with a video subscription package. The higher margins of broadband service also mean Comcast and others can withstand licensing fee increases without cutting too deeply into profits. In essence, many of these ISPs are using broadband service to subsidize video.
Dish, however, doesn't have that option, and that lack of Internet service is seriously undermining its video business.
---
Want to know more about video and TV market trends? Check out our dedicated video services content channel here on Light Reading.
---
One of the big takeaways from the MoffettNathanson report is that Dish can't overcome its video woes through the sale of its massive wireless spectrum holdings. In theory, those spectrum assets were supposed to bring the company massive cash, but in reality, there's no clear buyer to pick them up.
From the analysts: "Commodity theory requires that there are large numbers of independent actors on the buy side. In wireless, there are but four potential buyers. As it happens, none currently have the economic firepower to buy Dish Network's spectrum even if they wanted to."
If Dish's spectrum doesn't have significant market value, then the company has a big problem. Spectrum was supposed to be Dish's ace in the hole. Without it, all that's left is an increasingly moribund satellite TV business.
— Mari Silbey, Senior Editor, Cable/Video, Light Reading