Amazon Proves Video's Worth
Few companies can capitalize on video the way that Amazon can, with its massive retail distribution infrastructure and access to consumer wallets. But just how much is Amazon's video business impacting the rest of its revenues? A Reuters report suggests that the business has attracted 5 million people to the company's Amazon Prime shopping service. And with a typical subscription fee of $99 per year, that adds up to hundreds of millions of new dollars flowing into Amazon's coffers... all thanks to video.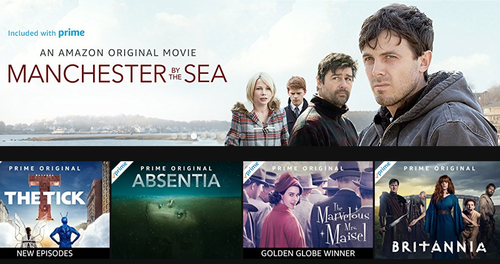 There are a couple of caveats to mention here. First, the exclusive Reuters report is based on documents that no one else has yet confirmed reviewing. Second, Reuters says those documents don't show how Amazon.com Inc. (Nasdaq: AMZN) traces new Prime memberships back to video as a driver. The report notes that, according to another source, Amazon gives credit to a show when it's the first program streamed by a new subscriber, but it's not clear how the company initially determines that the video is the motivating purchasing factor.
What is clear, assuming the documents are valid, is that Amazon is making financial decisions based on the impact it believes video is having. That in itself is a useful bit of information because it means Amazon isn't still shelling out cash on video as a bet toward the future, but that it's seeing real financial returns today.
And that has implications for businesses elsewhere.
Despite the fact that other companies can't match Amazon's scale, many can still benefit from the draw that video provides. This is why wireless carriers talk about using video to prevent wireless subscriber churn, and why so many traditional ISPs haven't given up on video despite the stingy profit margins and continually rising costs.
Comcast Corp. (Nasdaq: CMCSA, CMCSK) may be the best example of an ISP using video as just one service for attracting consumer revenue. In addition to selling broadband, Comcast has also built up its home security and automation products, and it's creating the foundation for more IoT services in the future. (See Comcast Unlocks xFi-Powered Smart Home.)
As for Amazon, the Reuters report indicates that around 26 million Prime customers were watching video with the company as of about a year ago. Meanwhile, each new Prime subscription means customers are not only paying a one-time fee, but also locking themselves in for more purchases with free two-day shipping. The math isn't exact -- especially since Amazon is also paying about $5 billion a year to acquire and produe content -- but it does appear to be tilting the market advantage in Amazon's favor.
Without a doubt, the rest of the pay-TV world is paying attention.
— Mari Silbey, Senior Editor, Cable/Video, Light Reading
PARTNER PERSPECTIVES
- content from our sponsors