No, Amazon isn't introducing its own online cable TV bundle, but it does appear to have an interesting new partnership in the works.
Over the weekend, Phillip Swann of TVPredictions.com discovered a new Amazon Cable Store online after the Internet giant posted a promotion for the sub-site in the wee hours of Sunday morning. The Cable Store offers Internet-only packages, Internet bundled with TV, and Internet plus TV and phone service. Interestingly, however, Comcast Corp. (Nasdaq: CMCSA, CMCSK) is the only cable partner listed.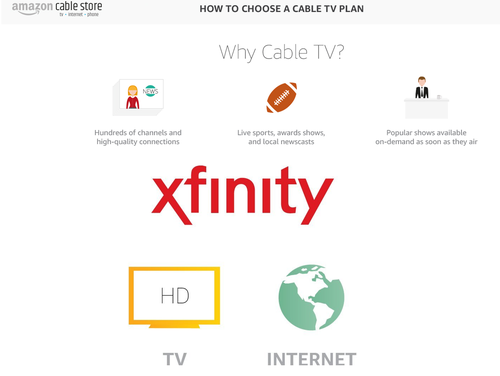 Amazon.com Inc. (Nasdaq: AMZN) advertises options for no-contract and multi-year bundles. Some packages have prices listed, while others do not. The package with the lowest price currently advertised is 30+ basic TV channels plus HBO and broadband with speeds up to 25 Mbit/s. That bundle is listed at $55 per month for the first 12 months with no contract and one HD/DVR set-top. The price goes up to $75 for the second 12 months, and $88 per month after that. After a service package is selected, a new customer must submit to a credit check and schedule an installation appointment.
Buying cable service online isn't as easy as signing up for Netflix or HBO Now because there's still an installation requirement. However, given Amazon's popularity, it may still draw some new customers for Comcast, particularly if, in the future, Amazon's own Prime Video becomes part of the package deal. Regardless, the outlet is one more sales channel for Comcast, and there seems to be no downside to opening up a new storefront.
Amazon, meanwhile, is choosing an interesting way to get into the cable business. As the ultimate online retail center, it makes sense for Amazon to dip its toe into TV and Internet sales. The company also sold many third-party streaming devices online before creating its own Fire TV platform, and Amazon is already in the video business with Prime Video. This could just be another incremental revenue play, or it could be the start of a service portal that eventually includes competitive Amazon TV offerings as well. (See also Facebook, Twitter Join TV Hopefuls – Report.)
— Mari Silbey, Senior Editor, Cable/Video, Light Reading