Verizon Gives Fios TV a Facelift

Comment (0)
It appears that Verizon still cares about its pay-TV product.
Although Verizon Communications Inc. (NYSE: VZ) pulled back plans to launch a next-gen IPTV platform last year, the company did move ahead this week with the limited rollout of Fios TV One, an upgraded offering that adds some bells and whistles that puts it on better footing with products such as Comcast Corp. (Nasdaq: CMCSA, CMCSK)'s X1 and Altice USA 's Altice One. (See Verizon's New Fios TV Is No More, Verizon's New Fios TV Is No More and Altice One Levels Up .)
[Editor's note: Did the Altice USA, Verizon, Comcast and Microsoft branding execs compare notes? Adding "One" or "1" to the end of a product name is evidently the thing to do these days.]
Notably, Fios TV One adds a Voice Remote function, WiFi-connected client boxes, support for 4K video, and integration of Netflix into the service's interactive guide. The multi-room features has enough tuners to support viewing on up to five TVs in the home.

Verizon says Fios TV One is currently available in a handful of markets: Pittsburgh and Harrisburg, Pa.; New York City and its Upstate New York properties; Massachusetts; and Richmond, Va.
Verizon plans to make the new product available in its remaining Fios markets through this month and during January 2019.
Verizon has been asked for supplier details, but Fios TV One appears to be an upgrade of the Video Media Server (VMS) platform it's been sourcing from Arris Group Inc. (Nasdaq: ARRS).
FCC documents from November 2017 identify Arris as the maker of the VMS4100, a hybrid QAM/IP server-client setup that supports 4K video on all devices. The main video server uses CableCARD security but communicates with IP-based clients via in-home WiFi. The previous-generation VMS1100 setup relies on wired connections, such as Multimedia over Coax Alliance (MoCA) , for communications and content streaming over the home network between the main video device and the client devices.
The new, Bluetooth-connected Fios TV Voice Remote lets users search for content, navigate channels, and enable trick-play functions (pause, play, rewind, fast-forward) for DVR-recorded and VoD content using voice commands. Users can also try to locate a lost voice remote -- pressing the power button of the Fios TV One box twice will locate the remote it's paired with and command it to 'beep' until found.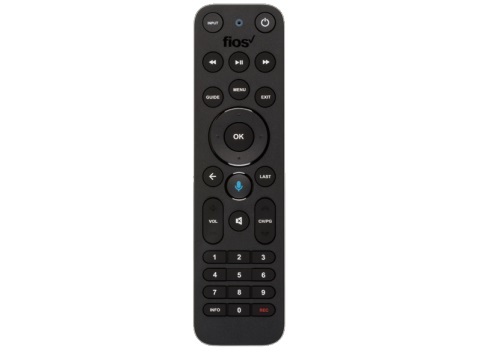 Verizon didn't mention how much DVR storage Fios TV One supports, but the previous-gen VMS platform packed 1 Tbyte of storage and provided an option for customers to combine the functions of two primary VMS devices -- so 2 Tbytes of storage and the ability to record 12 shows at once.
Verizon says new customers can bundle Fios TV One with the company's 1-Gig broadband and phone products for $79.99 per month. Verizon is also including a year of Amazon Prime and an Amazon Echo (2nd Gen) smart speaker. Existing Fios TV subs can upgrade to the new platform for no added cost, though they might get hit with additional equipment fees. (See Verizon Bundles Amazon Prime to Pump 1-Gig Fios .)
Though the Fios TV One upgrade does add some new capabilities like voice navigation and a solid starting point with OTT integration, it's not as ambitious as the next-gen IPTV product/ecosystem that Verizon had been working on.
Verizon, which shut down the ill-fated Go90 service in July, has likewise scuttled a plan to develop and launch its own OTT TV service, opting instead to team with existing services, such as YouTube TV: Verizon is offering three months of YouTube TV and an Apple TV 4K or Google Chromecast Ultra device to new customers of its 5G Home broadband product. (See Verizon's Go90 Shakes Hands With Eternity, Vanquished in Video, Verizon Admits OTT Defeat and Verizon's Home-Grown 5G Arrives Today.)
Still, the upgraded platform does add some much-needed features to the Fios TV product as Verizon looks to keep pay-TV losses in check while it continues to do battle with cable operators and satellite TV players and a cord-cutting trend that's being aided by a growing mix of virtual MVPDs. (See OTT-TV Gains Slow to a Crawl in Q3, but Cord-Cutting Does Not – Analyst.)
In Q3, Verizon lost 63,000 Fios TV subs, ending the period with 4.49 million.
— Jeff Baumgartner, Senior Editor, Light Reading
PARTNER PERSPECTIVES
- content from our sponsors