TiVo hopes to reconnect with cord-cutters and differentiate from new products from the likes of Amazon and AirTV with the Bolt OTA, a more powerful version of its predecessor.
TiVo Inc. (Nasdaq: TIVO) has discontinued the previous-gen model, the Roamio OTA Vox (the first Roamio OTA was introduced under the "limited edition" banner back in 2014). It's now following with the new, more advanced offering, which bakes in a chip that's about seven times faster than the earlier Roamio OTA and has three times more memory. At the same time, it still integrates over-the-air TV (when the device is paired with a digital antenna), a select mix of over-the-top apps that include Netflix, voice navigation/search, and SkipMode, a feature that skips commercial breaks in recorded programs with a single button press.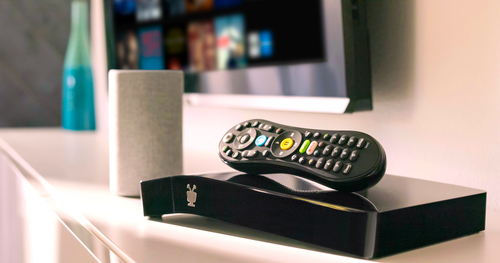 In a nuanced approach to the market, TiVo is targeting its new device to cord-cutting "intenders" (consumers who are thinking about cutting the cord) and "regretters" (those who have cut the cord and miss the set-top box experience, but still don't want to take a full pay-TV service).
TiVo's newest device also hits a segment of the retail market where TiVo has had some momentum. The market for TiVo's OTA devices has been growing at about 10% a year, while its retail devices that work with digital cable TV service (using a CableCARD) has been declining by about 5% a year, according to Ted Malone, TiVo's VP of retail products and services.
The Bolt OTA has essentially stripped out the cable-facing features of TiVo's flagship Bolt product, such as the cable tuners, CableCARD slot/connector, and networking over in-home coax using integrated Multimedia over Coax Alliance (MoCA) silicon.
Despite the lack of integrated MoCA technology, Bolt OTA users can still stream live and recorded video to other TVs in the home by networking the main device to IP-connected TiVo Mini boxes using Ethernet or an external MoCA Ethernet bridge.
The new entry goes on sale Friday, September 28, for $249.99 at TiVo.com and at Amazon.com (the Bolt OTA will hit Best Buy shelves on October 7). Consumers will still need to buy the integrated TiVo service for $6.99 per month or $69.99 per year, which is discounted from its traditional rate of $14.99 per month, or $149.99 per year. The Bolt OTA bundled with TiVo's All-In service plan (a one-time payment option that eliminates monthly fees) goes for $499.98. By comparison, TiVo had been selling the less powerful Roamio OTA Vox with the All-In service plan for $399.99.
That will draw some comparisons to some similar DVR/OTA combo products focused on cord-cutters from Amazon.com Inc. (Nasdaq: AMZN) and Dish Network LLC (Nasdaq: DISH)'s AirTV that don't tack on additional service fees. (See AirTV Launches Dual-Tuner Player for Cord Cutters , Dish's AirTV Adds DVR Option to Cord-Cutting Box and Amazon Gives Cord-Cutters Another Tool With Fire TV Recast DVR .)
Malone believes TiVo's offering is differentiated and simplified from some of those other recent entrants because it doesn't require consumers to piece together multiple devices.
"Those tend to be products that people are willing to tinker with … and have more of a DIY feel to them," he said, adding that the Bolt OTA also packs four tuners and allows users to download recorded content to mobile devices.
Malone said TiVo doesn't view the new Fire TV Recast from Amazon as an absolute, direct competitor, given the different approach. At the same time, TiVo still does a lot with Amazon -- it runs its service on Amazon Web Services Inc. , features Amazon Prime Video, and is integrated with Amazon's Alexa platform.
Malone is also hopeful that Amazon's scale will drive more awareness to the OTA market.
---
Home in on the opportunities and challenges facing European cable operators. Join Light Reading for the Cable Next-Gen Europe event in London on Nov. 6. All cable operators and other communications service providers get in free!
---
Out of the chute, TiVo's Bolt OTA does support several OTT video apps, but has yet to weave in any of the new virtual MVPD (multichannel video programming distributor) services.
However, Malone noted that TiVo does have relationships with both YouTube and Hulu LLC (for its SVoD service). He said both are considering whether to add their newer live TV services (YouTube TV and Hulu Live TV) to the TiVo platform, but nothing's been announced on that count.
TiVo isn't offering any special antenna bundles with the Bolt OTA. Malone said TiVo considered it, but found that it's a complicated market because consumers have different needs -- while some consumers need only a simple flat antenna to get a signal, others in more remote areas might require a professional installation. Instead, TiVo's suggesting that users work with a service such as Best Buy's Geek Squad to help them determine the best way to go.
TiVo is launching the new product even as the future direction of the company is getting sorted out. The company is undergoing a strategic review that could see TiVo go private or seek to sell off its products business. (See Tivo Might Sell Off Its Products Business .)
— Jeff Baumgartner, Senior Editor, Light Reading