TiVo Hones 'Edge' DVR Ahead of Company Split
In a clear indication that TiVo will stay in the retail market ahead of a planned split of its businesses, the company is reportedly edging closer to the launch of a family of new, connected DVR that will include models for both cable pay-TV customers and cord-cutters.
Word about the new CommScope/Arris-made TiVo Edge DVR surfaced in June, but more recently the ZatzNotFunny gadget blog revealed more details about the product, finding that it will integrate six tuners, pack two terabytes of storage alongside support for 4K video, voice navigation/search and TiVo's latest UI/navigation system. The Edge will also add Dolby Atmos and Dolby Vision HDR, showing that TiVo is "clearly going after the video enthusiast" with the new offering, ZatzNotFunny's Dave Zatz wrote.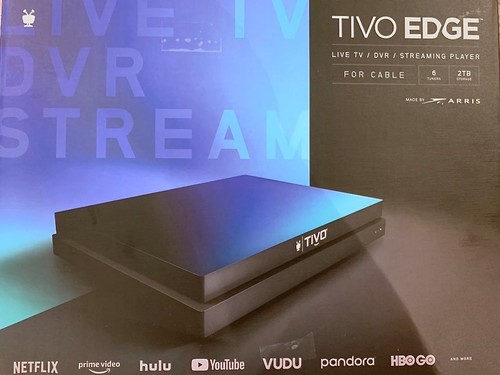 Box art shows that the Edge will also integrate OTT services from several popular services such as Netflix, Amazon Prime Video, Hulu, YouTube, Vudu, Pandora and HBO Go, among others.
In addition to mimicking some of the outward aesthetics of a PlayStation 4 console, TiVo's Edge lineup reportedly will feature a model with a CableCARD slot (for digital cable video) and two other versions tailored for cord-cutters that will integrate support for over-the-air TV tuners. The product details also indicate support for third-party streaming players but did not identify which other retail devices will be able to connect to the Edge early on, though Zatz notes that Fire TV and Apple TV boxes were on TiVo's roadmap, and speculated that Roku-powered devices will also be joined.
TiVo has not formally announced anything about the Edge, including pricing and a product launch, but a fall debut is expected if the company is to have it the Edge ready in time for the 2019 holiday buying season.
In addition to establishing a path that extends beyond TiVo's current top-end retail lineup, marketed under the "Bolt" brand, the Edge shows that the company intends to remain in the retail game while still expanding and retaining its MSO partnerships.
The Edge will also give TiVo another card to play amid new competition from Amazon, which last year introduced a connected DVR product for cord-cutters called the Fire TV Recast.
The new product line is also entering the picture as TiVo prepares to split out its businesses. Under the current plan, TiVo intends to separate its product and its intellectual property/licensing businesses by the second half of 2020. Once executed, the separation will create two publicly traded companies with different, full management teams and boards.
David Shull, TiVo's recently named president and CEO, played a key role in helping The Weather Company divide and sell its business units -- IBM acquired The Weather Company's digital and data assets in 2015, and The Weather Channel was sold to Byron Allen's Entertainment Studios in 2018.
Related posts:

— Jeff Baumgartner, Senior Editor, Light Reading
PARTNER PERSPECTIVES
- content from our sponsors