Google has been trying to edge its way into the service provider channel for years now. But where television is concerned, it may finally have found an end-run option that effectively bypasses pay-TV providers altogether.
With its introduction of the Google Home device today, Google (Nasdaq: GOOG) is launching a hub for the home that automatically plugs into the company's existing ecosystem of apps and its Chromecast TV hardware. Google Home also offers a conversational interface based on Google Assistant and powered by massive stores of Google data and Google's machine-learning capabilities.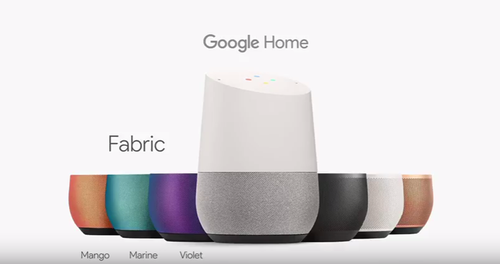 From a practical standpoint, Google Home gets right to the heart of TV control. One of my favorite features of both my Apple TV and Roku remotes is the way I can press a single button to turn on my TV set and switch to the right input for the right on-screen menu. With Google Home, not even that is necessary. In a demo at Google's "Made by Google" event today, the company showed how it's possible to ask Google to play videos of John Oliver. With that one request, Google Home connected to a nearby Chromecast device and had the device tune to YouTube and start playing John Oliver videos on the television display.
That gets to the second important selling point for Google. Google controls YouTube. YouTube Inc. already has a huge built-in audience that it carried over to the TV set when Google debuted the Chromecast product. Now, Google has found a way to integrate the YouTube content on a TV screen with a voice-controlled interface and its own Knowledge Graph.
And Google's not stopping there. It's also partnering with other TV app players. The company said Netflix integration is coming soon and then demonstrated a request to play the popular Netflix Inc. (Nasdaq: NFLX) show Stranger Things using Google Home and Chromecast. The Google hardware complied.
If Netflix is in the works, can integration with other services like HBO Now, Hulu and CBS All Access be far behind? Since Google announced that it will open up Google Assistant (and therefore Google Home) to third parties in the near future, the answer is most assuredly no.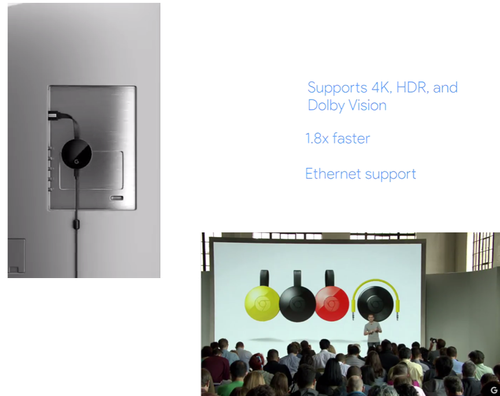 Oh and by the way, Google also introduced its Chromecast Ultra today, a new version of the Chromecast product that supports 4K Ultra HD TV with High Dynamic Range (HDR).
---
Want to know more about video and TV market trends? Check out our dedicated video services content channel here on Light Reading.
---
So what's the bottom line? Google is combining an existing connection to the TV -- with more than 30 million Chromecast devices sold -- with an intelligent interface and potential access to a vast universe of content. That content doesn't include the traditional TV bundle today, but it will soon offer many of the pieces people care about, and I see no reason why Google couldn't also offer its own bundle in the future. Perhaps that YouTube Unplugged service we've heard rumors about? (See YouTube Prepping Skinny TV Bundle – Report.)
Even better, Google is tying up all of these goodies with a holiday-season-perfect gadget that only costs $129. It's a fun toy -- available in seven colors! -- and the TV aspect is only one of its many features. Google Home also gives consumers a way to interact with other services, including smart home applications. Sounds a bit like Comcast Corp. (Nasdaq: CMCSA, CMCSK)'s X1 platform, right? (See Comcast: X1 Strong, No Need to Go OTT Today.)
Yes, but nobody's going to pick up an X1 box for a gift this holiday season. And I'm betting a whole lot of consumers will pick up the Google Home hardware.
— Mari Silbey, Senior Editor, Cable/Video, Light Reading