If it's successful in attracting consumers en masse, a startup called Caavo might end the battle for "Input 1," the primary HDMI port of TVs that has long been dominated by the pay-TV set-top box.
Looking to simplify, streamline and unify the management of multiple set-top boxes, streaming media players, gaming consoles and even connected DVD players, Caavo has introduced a version of its all-seeing/all-knowing video device hub targeted to the consumer mainstream.
Caavo's mass-market version of the product, called the Control Center, goes on sale today at Caavo.com, BestBuy.com and at Best Buy brick-and-mortar stores for $99.95 alongside a subscription service that runs $1.99 per month. Caavo claims that platform can discover and manage content spanning live TV, DVR recordings and OTT content/apps.
The price on the new product undercuts the original Caavo box, which starts at about $400 and lets users connect up to eight video devices.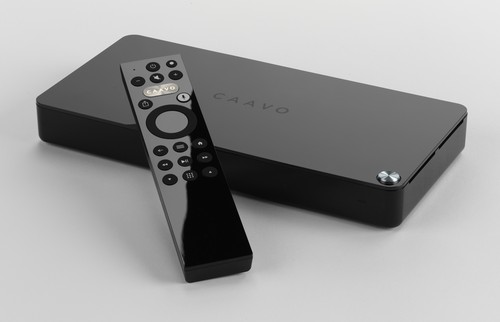 Caavo's new device supports 4K, High Dynamic Range (HDR) and Dolby Atmos, and can connect up to four video devices, as well as the TV itself, plus a soundbar or A/V receiver and ties it back to a system designed to auto-detect what's being connected during the set-up process. Caavo's Control Center also ties in support for IR (infrared), Bluetooth and HDMI-CEC, a feature that lets users control multiple HDMI-linked devices with one remote. Users can also enable voice control by pairing Control Center to Google Voice- or Amazon Alexa-based smart home devices.
Working in tandem with Caavo's cloud-based platform, Control Center is also designed to find and display relevant and searched-for content across devices and apps/sources and play it back all from the same interface. Caavo said a search for The Big Lebowski, for example, will display an "unbiased" view of which devices and sources have access to that movie -- less time-consuming and frustrating than having the user switch inputs manually and conduct a content search on a device-by-device and app-by-app manner.
Caavo attacks "a super complex problem," adds Ashish Aggarwal, a Caavo co-founder who's focused on the company's technology.
The "problem" Caavo's focused on is how to integrate and aggregate access to content and video apps from multiple sources (pay-TV set-tops, OTT players, and gaming consoles) and unify it under one interface and search platform. Instead of requiring consumers to toggle between separate devices and HDMI ports and dive into individual apps manually, Caavo attempts to meld everything together under one common system.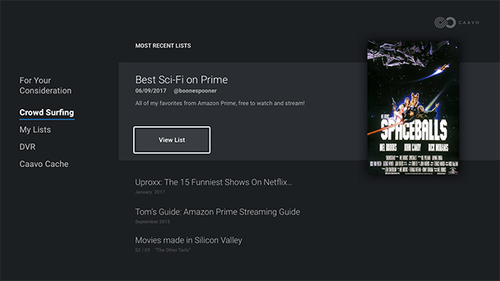 The "Watch" menu of the Control Center also shows suggestions, presents alerts when new episodes of favorite shows are available for viewing, and lets users create and share guides and playback lists with other Caavo users.
"We're looking to democratize video and discovery and allow everybody in the house to have control over the big screen TV," Caavo co-founder and CEO Andrew Einaudi said.
That price point on Control Center is well below the initial, version of the product for videophiles that was limited to a run of about 5,000 units and started at $399 each. That "Deluxe Set" offering, which went on sale in February, is equipped with eight HDMI ports, features a customizable top-case (with a choice of three wood-grain finishes-- bamboo, barwood and ebony), and bakes in a lifetime service subscription. That original product supports 4K, but not HDR. With the new Control Center hitting the scene, the earlier, more expensive version of the platform is now being referred to as Caavo Classic.
"This [the Control Center] is the mass-market version of what we launched in February," Einaudi explained, noting that Caavo has endeavored to speed up and simplify the device's set-up process. "This product is really all about getting out to a broad consumer base … that loves TV and TV in a shared experience."
"Now we're ready to scale it up," Aggarwal added. "This is the product that should go into millions of homes."
At a sub-$100 price point, Caavo will soon see if its concept will indeed resonate with a mass market and branch beyond its earlier focus on a passionate but much smaller segment of video device power users.
As the video hub, Control Center can tie together devices such as the Apple TV, Fire TV, the Android TV-powered Nvidia Shield TV, Google Chromecast streaming adapters, a range of DVD and Blu-ray players, TiVo Inc. (Nasdaq: TIVO) boxes, Roku Inc. players, and Xbox One and PlayStation consoles. It can also integrate with set-tops from MVPDs such as Comcast Corp. (Nasdaq: CMCSA, CMCSK), Charter Communications Inc. , AT&T Inc. (NYSE: T)'s DirecTV and Dish Network LLC (Nasdaq: DISH).
Caavo is also working on a mobile app for iOS and Android devices that lets consumers try out the Control Center's Watch feature.
Caavo, which was founded in 2015 and has raised $32.5 million, has some ties to another high-level, video-focused idea -- place-shifting -- that ultimately helped lead the way to today's big focus on multiscreen video and access to video and TV while consumers are on-the-go. Caavo also has some links to Sling Media Inc. , the company behind the original Slingbox that was acquired by EchoStar in 2007. Blake Krikorian, the serial entrepreneur and Sling Media co-founder who passed away in 2016, was one of Caavo's co-founders. Einaudi is a former exec of Sling Media and EchoStar and Dish, as well as Microsoft, where he worked on the Xbox team.
— Jeff Baumgartner, Senior Editor, Light Reading