Not content simply to exploit its advantage with Prime Video, Amazon has released new TV hardware aimed at driving consumers further into its ecosystem of content, distribution and devices. Amazon's new video product is a coaster-size, 4K-compatible Fire TV dongle -- bigger than a stick, smaller than a set-top. It comes paired with an Alexa voice remote and will start shipping October 25 for the retail price of $70.
Why is the new Fire TV a big deal? It offers high-end specs at a relatively low-end cost. The Fire TV renders 4K Ultra HD and high dynamic range (HDR) content, delivers video at 60 frames per second and supports Dolby Atmos audio. It also comes with 802.11ac WiFi and 8GB of on-board storage. Not only does the product undercut the launch of the new $180 4K Apple TV earlier this month, but it also puts more pressure on the cable TV sector, which has been sluggish in bringing 4K set-tops to market. (See Comcast Has a New Timeline After 4K Delay.)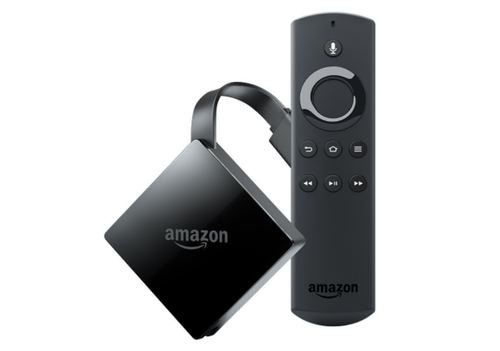 The launch also comes as Amazon.com Inc. (Nasdaq: AMZN) is making a significant content push with plans to invest $4.5 billion in programming this year, and as the company extends its retail channel reach not only online, but through physical locations including Whole Foods stores and Amazon Locker sites. The opportunities to market and sell the new Fire TV are nearly limitless, and once consumers have Amazon hardware in the home, it opens up more ways for the company to engage with customers and continually squeeze out incremental revenue. (See Why Amazon May Be Cable's Biggest Threat.)
The other interesting note about Amazon's strategy is how closely it parallels Comcast Corp. (Nasdaq: CMCSA, CMCSK)'s. First there's the focus on voice control, which has the dual advantage of making search and discovery easier for consumers and of providing more data back to Amazon on user patterns and preferences. (Apple Inc. (Nasdaq: AAPL) and Google (Nasdaq: GOOG) are also following this path via Siri and the Google Assistant, respectively.)
Second, Amazon is pushing the Fire TV and Alexa integration as more than an entertainment experience. The company also highlights how users can control smart home devices like thermostats and connected lights through the Alexa remote, and how customers can play music and view camera feeds through the Fire TV. Like the Comcast X1 platform, the Fire TV supports smart home cameras so users can peek in on different areas of the house (nursery, front door, etc.) without ever leaving the couch. At launch, the Fire TV supports cameras on several name-brand products from companies like Arlo, Ring, Nest and August.
---
Want to know more about video and TV market trends? Check out our dedicated video services content channel here on Light Reading.
---
In addition to all of the Fire TV benefits listed above, Amazon also has one more advantage over traditional pay-TV players. The Fire TV is an easy impulse buy and an easy product to pick up as a gift during the holiday shopping season. Cable TV has no equivalent.
The one thing Amazon doesn't offer is broadband service. That means cable and telecom companies can still use Internet access as leverage in the TV market wars. It's a good thing because with Amazon's growing clout, they're going to need it.
— Mari Silbey, Senior Editor, Cable/Video, Light Reading