Amazon Gives Cord-Cutters Another Tool With Fire TV Recast DVR
Joining what's become a crowded product area while also taking another jab at the struggling pay-TV sector, Amazon has introduced a subscription-free DVR sidecar device for cord-cutters that enables them to watch and record free over-the-air TV programming whether they are at home or on the go.
The new companion device, called the Fire TV Recast, can connect to Fire TV streaming players, smart TVs that run the Fire TV platform and Amazon.com Inc. (Nasdaq: AMZN)'s own video-capable Echo Show smart home hubs, as well as Fire tablets and iOS and Android mobile devices. Reports that Amazon was working on the DVR sidecar surfaced last month. (See Amazon Cooking Up DVR for Fire TV – Report.)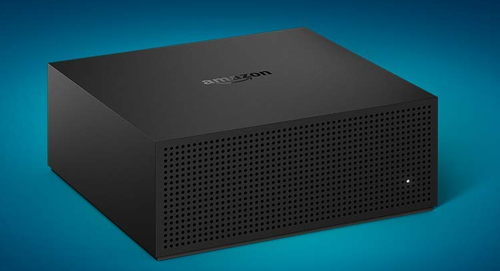 When paired with a digital HDTV antenna, the Fire TV Recast can capture and record signals from broadcasters such as ABC, CBS, Fox, NBC, PBS and The CW.
The Fire TV Recast is targeted to cord-cutters, but it's not exactly cheap. Shipping November 14, the lower-end, two-tuner model with 500 GB of storage (enough for about 75 hours of HD) will fetch $229.00, while the four-tuner/1TB version will cost $279.00. Amazon said the Recast soon will be able to expand storage when linked to a USB-connected hard drive.
The saving grace for cost-conscious consumers is that the Fire TV Recast isn't saddled with a monthly subscription.
Though accessing and recording over-the-air TV is a key component of Fire TV Recast, it does open a door to certain pay-TV options when it's connected to a Fire TV player or Fire TV-powered smart TV. A revised "On Now" row on the guide now supports integration with PlayStation Vue, showing what's live on Sony Corp. (NYSE: SNE)'s virtual MVPD service alongside what's available over-the-air. Integration with Amazon's Alexa platform enables users to control the Fire TV Recast with their voice.
While the Fire TV Recast allows users to record up to four shows at once, they can only stream content to two compatible devices at the same time.
---
Home in on the opportunities and challenges facing European cable operators. Join Light Reading for the Cable Next-Gen Europe event in London on November 6. All cable operators and other communications service providers get in free!
---
Amazon has a big advantage with its massive online retail presence, but it will face competition in this category from others that hawk similar (and usually cheaper) options.
Among examples, Channel Master 's Android TV-powered Stream+ sells for $149 as a standalone device, or $178 when bundled with 1TB of storage. Dish Network LLC (Nasdaq: DISH) also sells a line-up of products under the AirTV brand, including a version that lets users access programming and recordings in and out of the home. Nuvvyo, a startup that has catered to cord-cutters from the start, recently introduced Tablo Dual Lite, an over-the-air TV/DVR that starts at $139.99, but takes a "bring your own storage" approach. TiVo Inc. (Nasdaq: TIVO) hits this market with its Roamio OTA Vox box, but the big drawback is the additional service plan, which starts at $14.99 per month. (See Dish's AirTV Adds DVR Option to Cord-Cutting Box.)
Update: Tivo bundles its All-Service plan with the $399.99 Roamio OTA Vox. However, that device model is currently out of stock.
That group is all going after a relatively small but growing cord-cutting market that is causing pay-TV subscriber losses to mount.
Traditional pay-TV providers lost about 849,000 subscribers in Q2, narrowed from a loss of 973,000 subs a year-earlier, according to MoffettNathanson LLC estimates. Meanwhile, virtual MVPDs (Sling TV, PS Vue, YouTube TV, et al) added 691,000 subs in the period. (See As Hulu Live Tops 1M Subs, Who Leads the OTT-TV Race? and Cord-Cutting Pace Slows in Q2.)
— Jeff Baumgartner, Senior Editor, Light Reading