In an interesting twist on mobile television, Tablet TV -- a joint venture between Granite Broadcasting and UK company Motive Television -- is ready to bring over-the-air (OTA) broadcast channels and DVR service to mobile devices without a subscription, starting in San Francisco in September.
Tablet TV consists of a mobile app and a small, sub-$100 piece of hardware called a T-Pod that combines a TV antenna, tuner and hard drive. It's a bit like several other products and services that have launched in recent years, but not exactly like any of them.
Unlike Dyle -- a broadcaster-backed service that retransmits signals over separately-managed broadcast frequencies -- Tablet TV pulls in OTA stations using the ATSC standard, just like traditional rabbit-ear antennas. Unlike Aereo Inc. , Tablet TV hasn't centralized the signal capture process with a subscription streaming service that bypasses retransmission fees. And unlike TV Everywhere services and other streaming video offerings, Tablet TV doesn't require an Internet connection. (See Mobile TV Venture Appoints NBCU Exec as CTO and Supreme Court Halts Aereo's Flight.)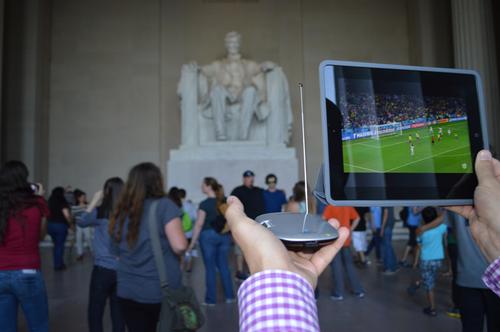 Luc Tomasino, head of Tablet TV, doesn't expect his new product to replace cable TV. Instead, he thinks Tablet TV is accretive -- perfect for household members who want to watch TV somewhere besides the living room, or for business travelers who want more control over the TV experience while on the road.
"It's all about personalization, and I think that the consumers are savvy enough now to know that they want to personalize their viewing experience," Tomasino says.
---
For more coverage of video innovation, go to Light Reading's video content channel.
---
Part of the personalization that Tablet TV offers is the ability to record broadcast TV for later viewing. The T-Pod has only one tuner, but Tomasino points out that "you can record a channel that you're watching, or you can schedule it to record a program later that you want to watch." The T-Pod ships with seven gigabytes of storage and support for an SD card.
The associated tablet app, meanwhile, also includes a chat feature, and Tablet TV will offer on-demand video options in the future.
Where Tablet TV may encounter problems is in its ability to scale. Currently the company partners with KOFY-TV in San Francisco, a station owned by Granite Broadcasting. Users of the product won't be restricted only to KOFY's content –- viewers will be able to access any broadcast channels within range -– but the service does require KOFY's support for inclusion of on-demand video. If Tablet TV were to expand to new locations, Tomasino says, the company would have to team up with a broadcast affiliate for VOD in each market.
In an article on SFGate.com, Peter Markham, Granite Broadcasting's chairman and CEO, spun this in a positive way: "This puts the broadcasters back in the driver's seat." However, it could also make it difficult for Tablet TV to grow.
In the near term, Tablet TV will debut in beta in San Francisco next month, then move to commercial launch in the city in December. If everything goes well, Tablet TV will look to expand to additional cities in the future.
— Mari Silbey, special to Light Reading