Cablecos have been pining for interactive television since the 1990s, and over the past couple of years, many have channeled their iTV ambitions into social media platforms. Which explains the latest obsession with Twitter on TV.
Except, it really doesn't.
The most recent news from Twitter TV land comes from Metrological , which provides application frameworks for pay-TV platforms. In other words, Metrological helps operators power their on-screen program guides and introduce integrated Internet-based content. Its customers include Comcast Corp. (Nasdaq: CMCSA, CMCSK) and Liberty Global Inc. (Nasdaq: LBTY), among others.
Today, Metrological announced a new "Watch with Twitter" TV service. The service delivers Twitter content "side by side with TV shows," offering contextual and trending tweets as an overlay. Metrological confirms that multiple customers are already testing out the new service and are expected to deploy it in early 2017.
Sound familiar? Why, yes. Apple Inc. (Nasdaq: AAPL) just introduced something similar with its integration of Twitter with live events like football games and political debates streamed through the Apple TV. (See New Apple TV App Looks a Lot Like... Comcast?)
Unfortunately for Apple, Twitter Inc. and the pay-TV world, nobody wants to see tweets on television. How do we know? Because it's all been tried before.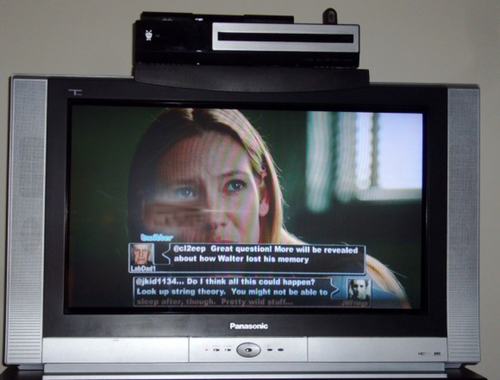 In 2009 (!), both Verizon Communications Inc. (NYSE: VZ) and Microsoft Corp. (Nasdaq: MSFT) tried Twitter TV with Fios and Xbox Live respectively. Fox Broadcasting Co. also partnered with Twitter in the same year to deliver a pop-up-video* style experience during reruns of the TV series Fringe and Glee. They were all disasters.
As my great friend and digital media blogger Dave Zatz put it at the time, "The huge Twitter overlay made Fringe unwatchable last night." And, "In most cases, [Twitter's] just not suitable for the 10' lean-back, couch-based experience. Not only can it be hard to read (and type), somehow it also seems to be lacking intimacy."
---
Want to know more about video and TV market trends? Check out our dedicated video services content channel here on Light Reading.
---
Pay-TV providers will do anything to try to boost engagement, sell more ads and collect more data about their customers. And viewed through that lens, integrating Twitter with TV is a brilliant solution. But those things aren't what viewers care about. Viewers care about the actual story happening on their TV screens, and if they want more commentary on the side, well that's what their phones and tablets are for -- a personal space for dipping in and out of online discussions at will.
You might think that the pay-TV industry would have learned its lesson by now. Yet the magnetic pull of potential new revenue is strong, as is the compulsive desire to tinker with the TV experience. Will the Twitter-on-TV dream finally fade away if and when the newest experiments fail? Maybe. But our collective memory is short. Even if the industry moves past Twitter, I wouldn't be at all surprised to see a similar social media/interactive TV feature pop up again in a few years. It's a cycle we keep on repeating.
*Pop-up-video style refers to the ancient MTV practice of overlaying little bubbles of information on top of music videos.
— Mari Silbey, Senior Editor, Cable/Video, Light Reading