DENVER -- Cable Next-Gen Technologies & Strategies -- If content is king, and in television it surely is, then pay-TV operators have something new to fear from their OTT video rivals. There are some major benefits for creators in producing content for online video services versus traditional TV.
"I like the new frontier. I like the Wild, Wild West aspect of it," says writer and producer Ben Watkins, who spoke with Light Reading's Alan Breznick at the Cable Next-Gen Technologies and Strategies conference. "For me, I immediately gravitate to OTT."
Watkins sees the advantages in OTT play out in two different ways. First, there's an emphasis on trying new things and creating new forms of storytelling. Second, online video providers like Amazon.com Inc. (Nasdaq: AMZN) tend to be more willing to work with their creative partners to solve problems when they arise.
Take Amazon's determination to produce all of its television shows in 4K Ultra HD. Watkins says he and director Marc Forster on Amazon's series Hand of God were worried about the quality of digital 4K cameras when their show first started shooting. Amazon had already made a public commitment to 4K production, but the company was willing to look for a compromise that would satisfy both parties. That compromise ended up being an agreement to let the Hand of God team shoot in 4K on film for their first season, and only transition to digital 4K cameras for the second season after the technology had matured.
Watkins says he was still worried about the visual effect of 4K on his show, but those fears ended up being unfounded.
"I was a little bit afraid of the picture being too sharp," says Watkins. "And it was the exact opposite. 4K was deeper, much closer to what we thought of as film."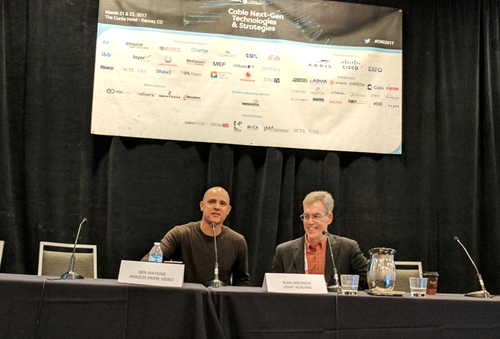 Amazon is also interested in adding new interactive elements to its television shows. Watkins says he's pitched the company on creating a fictional mock-up of the city in one of his programs and rendering that city on a website where the mayor of the town (a fictional character) occasionally holds press conferences related to the show's story. Amazon is reportedly all for it.
And Watkins likes the idea of trying something like a choose-your-own-adventure TV program... but with a twist. Instead of having audiences explicitly choose one narrative option over another, Watkins wants to track how viewers engage with a show using the camera on a mobile device to follow eye movement and then adjust how the story plays out over a season based on what's resonating with audiences the most.
"I usually, when I'm developing a show, I keep in mind how would I do interactive elements," explains Watkins.
Beyond interactive television [Editor's note: hello, 1990s!], Watkins is actively exploring the opportunities around virtual reality. He's a big believer in VR's potential and has already discussed with Hulu LLC how he plans to incorporate the medium into another upcoming project with that company, a reboot of the 1970s show Foxy Brown. At the beginning of each episode before the opening titles and music run, Watkins plans to start off the program with a VR segment to draw viewers into the story.
---
Want to know more about video and TV market trends? Check out our dedicated video services content channel here on Light Reading.
---
Of course, not everything is better with OTT than it is with the traditional television industry. For example, the major online video providers refuse to share any audience measurement numbers, even with their own creative producers. That makes it hard to get visibility into a show's popularity.
Because the entire season of an OTT program is also typically shot and produced before any viewer sees a single episode, it's also usually impossible to adjust quickly to viewer feedback. If a storyline tanks, there's no way -- right now -- to adapt before the start of season two.
Still, when it comes to a choice between OTT and traditional television, Watkins sees OTT as the most exciting route forward.
"I think a lot of people, depending on what generation you're from, [are] saying it's the golden age of television," says Watkins. "But I think it really is right now because of the storytelling."
It may be that if traditional pay-TV providers want to make the most of this golden age, they'll have to take a few more cues from the newer OTT entrants in the market.
— Mari Silbey, Senior Editor, Cable/Video, Light Reading