Where Internet TV Lost Its Way
This may be the golden age of television, but the industry still has some serious soul searching to do.
Take the British Broadcasting Corp. (BBC) . CNBC is reporting that the UK public broadcasting network plans to spend $44 million over the next three years because it's losing viewership to companies like Amazon.com Inc. (Nasdaq: AMZN), Facebook and Netflix Inc. (Nasdaq: NFLX). I'm all for the BBC investing more money in programming, but I worry about what that means for viewers' monthly budgets, and whether the network will try to recoup some of its investment through new premium offerings.
Premium offerings? But how could that be? It's a public broadcasting service.
Sure, but it's not public for everyone all the time, which is why the BCC, along with British ITV network and US partner AMC Networks Inc. , launched the $7-per-month online video service BritBox four months ago. The OTT service includes British series old and new, all available online for your multiscreen streaming pleasure.
And speaking of British shows, I was surprised to discover this past weekend that Grantchester, one of my favorite series on Amazon Prime, has new season-three episodes available for viewing. Except, unfortunately, they're not available to me. I can only stream season three if I become a member of my local public broadcasting station and get a new member benefit called WETA Passport.
As a personal rule, I've decided not to sign up for any subscription VOD service if it's only for one television show. Hence the reason I'm not buying CBS All Access, even though I'd like to watch The Good Fight, or Hulu, even though I'm curious about The Handmaid's Tale.
And hence the reason I'm not signing up for WETA Passport. Alas, no more Grantchester for me.
---
Want to know more about video and TV market trends? Check out our dedicated video services content channel here on Light Reading.
---
There are a lot of good things about the fracturing of the television ecosystem. There's more content available, and you can watch it on whatever smartphone, tablet or connected TV you want. But one thing that's not good is that there's no longer any consistency around when you should have to pay for programming (there used to be a clear delineation between free broadcast channels and cable TV), or whether the bulk of popular shows are available through a single bundled subscription.
Even when a show is so good that it's worth paying for with an extra monthly subscription service, there's another issue. Most OTT providers still don't handle video delivery over the Internet very well. Look at the technical issues still plaguing DirecTV Now.
Or, closer to my heart, consider the headaches of trying to manage an HBO Now subscription. (See GoT Fans Curse HBO (Not Right) Now.)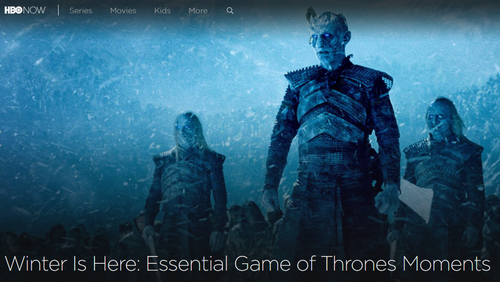 Although my general rule is not to subscribe to an SVOD service for a single show, I've made an exception for Game of Thrones. I signed up for HBO Now last year to watch GoT, and I planned to do the same this year ahead of the season-six debut. As it turns out, however, reactivating my account has been a nightmare. I don't remember my password, and instead of just letting me reset it, HBO wanted me to comb through emails from more than a year ago to find one where they apparently asked me to complete my online profile. Miraculously I found that email, but the link still took me to a page that wanted me to enter a password.
Luckily when I switched from my tablet to my computer, I discovered that my computer still remembers my HBO password. But after I went to settings from within the HBO Now site to ask for a reset so that I could still watch GoT on other screens, HBO claimed it would send me an email... and then never did. (Yes, I checked my junk mail.)
I love good TV. And I want nothing more than to binge-watch good shows from the comfort of my couch, whether it's through my Fios set-top, Apple TV, Roku, Chromecast or iPad. (Yes, we have them all.)
I'm even willing to pay a fair bit of money for the privilege! But only if the TV industry can get its act together on the Internet. So far, in my opinion, Netflix is still the gold standard among OTT players -- a variety of solid (and some excellent) original content, and it's easy to access anywhere and everywhere. Others might say the same about Hulu, or Amazon Prime, depending on content taste.
But by far, most of Internet TV is still a chaotic mess. And I suspect it will only get worse before it gets better.
— Mari Silbey, Senior Editor, Cable/Video, Light Reading