Verizon pioneered its Fios telco TV service more than a decade ago and rapidly rose through the ranks of pay-TV providers. But fast forward to 2017, and the company's direct-to-consumer video efforts don't look so promising.
In the latest setback, Verizon Communications Inc. (NYSE: VZ) is reportedly having difficulty signing deals with programmers for a new over-the-top TV service. According to Bloomberg, the telco had been hoping to launch its OTT offering before the end of September, but troubles with content negotiations are threatening to delay that debut. Verizon needs popular programming to compete with traditional rivals in the video market, but also to head off competitive threats from the likes of Facebook , YouTube Inc. and more. If it can't sign the necessary programming agreements, it can't hope to propel a new OTT service to success.
Verizon's latest OTT struggles would be bad enough on their own, but they come as the telco is also flailing on other video fronts. The company went live with its Go90 mobile video offering nearly two years ago, but the service has never gained traction with viewers -- millennial or otherwise. Back in late 2015, the director of Fios TV hyped the idea that Go90 was a sign of things to come for Verizon, noting that the company was "definitely positioning ourselves very clearly for the over-the-top future." (See FiOS TV Director Cuts the Cord.)
Go90 may have been a sign of the future, but if so, it turns out it wasn't a positive one.
---
Want to know more about video and TV market trends? Check out our dedicated video services content channel here on Light Reading.
---
And what about Fios TV? That service continues to chug along, but not nearly as well as it used to. So far this year, 28,000 customers have abandoned the Fios video service, and Verizon has acknowledged that there's a "growing shift in wireline revenues attributed to fiber-based products." Although Verizon doesn't break out Fios video revenues specifically, the logical conclusion is that they're falling.
Meanwhile on the communications front, the company continues to send mixed messages about where Fios TV is headed. On the one hand, the telco expanded with Fios into the Boston area late last year. On the other hand, Verizon's made clear that it wants to work with new communities on broadband initiatives that don't include Fios service at all. (See Verizon Takes 'One Fiber' to More Cities.)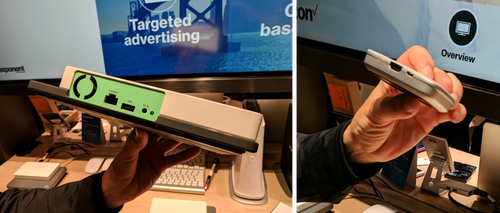 And then there's the service itself. A sneak peak at new technology during Mobile World Congress this year suggested Verizon would shortly upgrade Fios TV to all-IP delivery. Executives couldn't agree on timing for the update, but the implication was that the introduction of a new Fios TV incarnation would happen sooner rather than later. (See This Is the New Fios TV From Verizon.)
After more than five months, there's still no word of a launch date. (See Verizon Beta Tests IPTV, Stays Mum on Launch.)
For all of the billions that Verizon has spent on video content and technology, it's not doing more than treading water as a consumer video service provider. Perhaps that will change before the end of 2017, but so far, there's not much reason for optimism.
— Mari Silbey, Senior Editor, Cable/Video, Light Reading