T-Mobile buys Layer3 TV, plans OTT launch
T-Mobile officially jumped into the pay-TV business today with the acquisition of startup company Layer3 TV and the announcement of plans to launch a new over-the-top video service in 2018.
The mobile un-carrier has not revealed the purchase price of the deal, but was careful to note in a press and analyst call that the move will not affect the company's financial guidance over the next two years. An executive also referred to Layer3 TV as "pre-revenue," suggesting that the transaction was primarily about acquiring the startup's technology, partnership relationships and employee base rather than any existing customers. (See T-Mobile Announces Deal for Layer3 TV.)
Details of the OTT service that T-Mobile US Inc. plans to launch with Layer3 TV are limited so far, but the mobile provider does say it will combine an ad-based and subscription-based model and will take advantage of the content deals that Layer3 TV already has in place. As of now, T-Mobile has no intention to develop its own original programming.
Executives also emphasize the all-IP nature of the Layer3 TV system, which offers personalization and ad-targeting opportunities, as well as the fact that Layer3 TV delivers all of its content using the advanced HEVC codec. HEVC enables higher picture quality at a reduced bitrate.
As for why T-Mobile is looking to jump into the already crowded OTT market, the mobile operator believes it can develop a competitive edge over existing products that don't offer consumers everything they want.
"We're not going to give the world just another me-too copycat skinny bundle loaded with tradeoffs," said COO Mike Sievert on the company's press call. "Sure people want great value, but they don't want to be stuck with TV on a diet."
Executives also took a direct shot at AT&T Inc. (NYSE: T) when addressing reporters and analysts, noting that the telco spent billions of dollars to buy satellite TV company DirecTV only to turn around and develop its own OTT platform.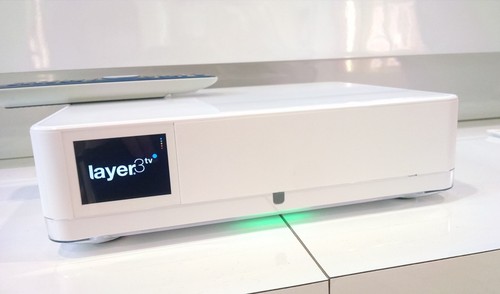 The strange thing about the marriage between T-Mobile and Layer3 TV is that it appears to bring together two very different philosophies. Layer3 TV has been delivering white-glove TV service -- starting at $79 per month -- in select markets using a managed broadband connection. In fact, it's been adamant about not being characterized as an OTT service. (See Layer3 TV Comes to Town, Hints at Future.)
T-Mobile, on the other hand, wants to deliver TV to the masses. It is adamantly pro-OTT and plans to go nationwide as a TV provider next year. T-Mobile executives also promise there will be a wide range of viewing packages available, from lower-cost options to premium-tier bundles.
Regarding Layer3 TV's existing service -- which is available in a handful of major markets, including Los Angeles, Chicago and Washington D.C. -- T-Mobile says it will continue to support that investment. But it clearly isn't taking the same approach as it gears up for the new OTT service next year. Among other shifts in strategy, the new T-Mobile service won't require the fancy hardware Layer3 TV provides customers today. That existing set-top is a pretty piece of equipment, but it's not cheap, and it certainly can't compare in reach to devices like the Roku and Apple TV that millions of consumers already have today.
— Mari Silbey, Senior Editor, Cable/Video, Light Reading
PARTNER PERSPECTIVES
- content from our sponsors