It's been eight months since Spotify announced it would add video and audio shows to its content lineup, and it appears the streaming music service is finally ready to deliver the goods. According to a report by The Wall Street Journal, Spotify has been testing the addition of video clips, podcasts and even some music-theme video series in four initial markets. It plans to launch an Android app with the new content this week in the US, and an iOS app next week.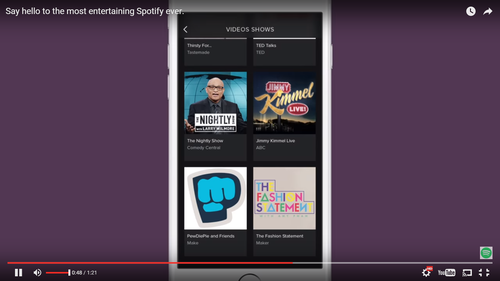 Spotify has listed several partners for its updated streaming video service including stalwarts like Disney, Viacom and the BBC, as well as web favorites like Slate, Tastemade and TED. Sound familiar? It should. With short news and comedy clips alongside web originals, the Spotify service sounds eerily similar to Comcast's Watchable service and Verizon's Go90. (See Verizon's Go90 Is Live – Will Anyone Watch?)
---
Want to know more about the impact of web services on the pay-TV sector? Check out our dedicated OTT services content channel here on Light Reading.
---
Like Comcast Corp. (Nasdaq: CMCSA, CMCSK) and Verizon Communications Inc. (NYSE: VZ), Spotify is chasing millennials, but it's doing so by trying to create a new walled garden rather than branching into something truly innovative. YouTube Inc. already exists, as does Google (Nasdaq: GOOG) for when search is a better solution than curation. (See Operators Blunder in Online Video Era.)
Perhaps Spotify can capture young audiences with streaming video, but it will have to be very clever to do so successfully. Otherwise it will just be another IP video service relegated to the dustbin. (See Cox's Fledging OTT Service Flares Out.)
— Mari Silbey, Senior Editor, Cable/Video, Light Reading