Seeking more separation in the hotly contested smart-TV market, Roku's newest product angle has more to do with the sounds, rather than the sights, that are delivered via the popular streaming platform.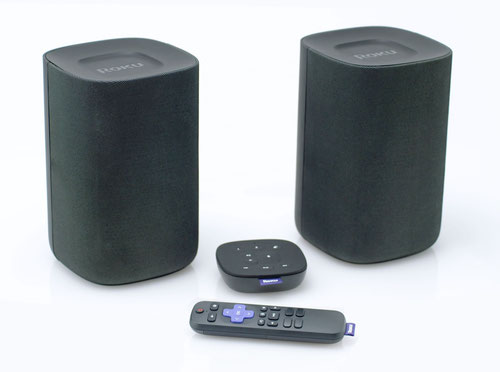 Bringing a new wave of audio-focused enhancements for a wide range of Roku TV models that build in its operating system, the streaming specialist is introducing a new line of tightly integrated, compact wireless speakers designed to produce premium sound and work with the thousands of streaming channels supported by Roku Inc. 's platform.
Roku is pairing that with another new device, called the Roku Touch, that serves as a "tabletop" voice remote that features programmable preset buttons as well as quick access to music services offered on Roku's streaming platform.
Roku, whose move into the connected speaker arena was signaled last year by its acquisition of Danish audio streaming tech startup Dynastrom, believes that offering a premium-quality, immersive sound system that's been optimized for Roku TVs will drive more consumer usage and engagement.
"For us... it's not about another piece of hardware shipping or selling a set of speakers," says Chas Smith, GM of Roku TV and Players. "For us, this is all about making the TV experience better… We want to continue to keep users engaged and excited about the platform."
The good news is that engagement is already on the rise. Roku doesn't break down what percentage of its customers use Roku TVs compared to those that use Roku's standalone players and streaming sticks, but active accounts rose 47% to 20.8 million in Q1 2018 versus the year-ago quarter, while streaming hours surged 56%, to 5.1 billion.
Smith adds that Roku is also entering this part of the consumer A/V game as TVs continue to get slimmer and require smaller, under-powered built-in speakers that tend to lack bass or miss on the low-end of audio range in a way that can make it more difficult for consumers to hear the dialogue of a TV show or movie.
It's also taking this angle as Roku continues to fight for share in a smart TV market that is also being targeted by Google (Nasdaq: GOOG) with its Android TV platform, Amazon.com Inc. (Nasdaq: AMZN), which has adapted Fire TV to be built into connected televisions, as well as Samsung Corp. (Tizen) and LG Electronics Inc. (London: LGLD; Korea: 6657.KS) (webOS).
With shipping slated to start by the end of October, Roku will sell its new wireless speakers in a bundle (two speakers: Roku TV voice remote and Roku Touch) at a $199.99 MSRP, and initially limit sales exclusively to Roku.com.
To help prime the pump, Roku will cut the price to $149.99 during a one-week pre-order period, and $179.99 from July 24 through August 15.
Roku's fast-growing Platforms business includes licensing fees from TV makers, as well as revenues from advertising and subscriptions.
Roku's smart TV licensing partners include three Funai Electric (for TVs that carry the Sanyo, Philips and Magnavox brands), RCA, TCL, Element Electronics, Hitachi America, Sharp and Hisense. Insignia (Best Buy's Brand) has also been part of the Roku TV mix, but that relationship was recently upended by an exclusive between Best Buy and Amazon.
— Jeff Baumgartner, Senior Editor, Light Reading