Philo's war chest is getting bigger as the over-the-top TV service provider wages a battle to win the hearts, minds and hard-earned dollars of the nation's expanding mass of cord-cutters.
Philo , which launched an entertainment-focused, skinny TV bundle starting at $16 per month late last year, said it has locked down a $40 million "C" round of financing led by three existing investors -- AMC Networks Inc. , Discovery Communications Inc. (Nasdaq: DISCA, DISCB, DISCK) and Viacom Inc. (NYSE: VIA). (See Slideshow: Meet Philo TV and Cable Nets Split to the Internet With Philo.)
With the new round factored in, San Francisco-based Philo has raised about $91 million. Other Philo investors include New Enterprise Associates (NEA) , Rho Ventures , XFund, HBO, CBC New Media Group and Mark Cuban's Radical Investments. (See Philo Raises $10M, Considers New Markets.)
Philo, a company that cut its teeth on an on-campus multiscreen TV service tailored for college students, said it will use the new round to invest in new features and enhancements, including features that weave into the subscriber's social networks, and to expand marketing efforts as it looks to expose the service to a larger group of cord-cutters and consumers who have so far steered clear of traditional pay-TV services.
With respect to streaming platforms, Philo also announced Tuesday that it has extended support for Amazon Fire TV devices as well as Apple TV boxes.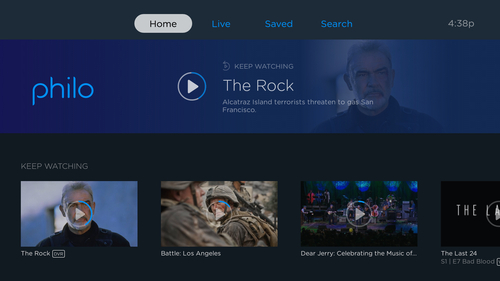 Philo has also built for Roku players and Roku TVs, web browsers, iPhones and Android devices (via Chrome--a native app from Philo for that platform is in the works). Philo also allows its subscribers to use their credentials to use TV Everywhere apps from more than 35 of its programming partners.
Launched last November, Philo national service offers more than 40 channels, including A&E, AMC, Cheddar, Discovery Channel, Food Network, HGTV, Lifetime, PeopleTV and VH1, for $16 per month, plus access to a cloud DVR. A nine-channel add-on pack runs the total to $20 per month. Philo currently lets subs watch the service concurrently on up to three devices. Prospective customers can try the service out for seven days by merely supplying Philo with their phone numbers.
Though Philo competes with other OTT TV providers, such as fuboTV, Hulu, DirecTV Now, YouTube TV and PlayStation Vue, its closest competitor is WatchTV, a new, sports-free service with 30-plus channels and a sizable VoD library that AT&T Inc. (NYSE: T) will offer for free to customers on its new unlimited mobile plans, and $15 per month on a stand-alone basis. Philo and WatchTV are keeping prices low with lineups that don't feature high-cost sports programming. (See Skinny TV Services Pack on Some Pounds.)
Philo's latest round of funding reflects increased investment by major US programmers in direct-to-consumer outlets that are helping to compensate for the slow erosion of the traditional pay-TV market.
In his most recent "Cord-Cutting Monitor," MoffettNathanson LLC analyst Craig Moffett estimated that the rate of pay-TV subscriber losses, excluding OTT TV providers, was 3.4% in the first quarter of 2018. Cable, satellite and telco TV service providers combined to shed about 809,000 subs in Q1 while virtual MVPDs (multichannel video programming distributors) added roughly 562,000.
Philo hasn't announced subscriber numbers, but said the company is "thrilled with the response we've seen so far" and that the new round of investment clearly indicates that Philo's backers believe in the approach it's taking.
The Diffusion Group (TDG) estimates that the nation's array of virtual MVPDs were nearing the 6 million subscriber mark at the end of Q1 2018, with Philo representing about 100,000 of that total.
Table 1: Virtual MVPD Subscriber Scorecard

Service Provider
Q1 2018 (Millions of Sub)
Sling TV
2.30
DirecTV Now
1.47
YouTube TV
0.35*
Hulu Live TV
0.75
Sony PlayStation Vue
0.65*
fuboTV
0.25*
Philo
0.10*
Total
5.87
Source: The Diffusion Group. Subscriber totals with an asterisk (*) are TDG estimates.
— Jeff Baumgartner, Senior Editor, Light Reading