Parks Associates must know something we don't.
Without any public information on pricing for the upcoming over-the-top video service from Home Box Office Inc. (HBO) , Parks Associates is already projecting that 17% of US broadband households "are likely to subscribe" to the pay-TV programmer's new standalone online offering at an assumed cost of $14.99 per month.
The research firm also suggests that 91% of those online HBO subscribers will be existing pay-TV customers, and that about half of those individuals who sign up will discontinue their more expensive TV packages in favor of keeping HBO as a standalone product.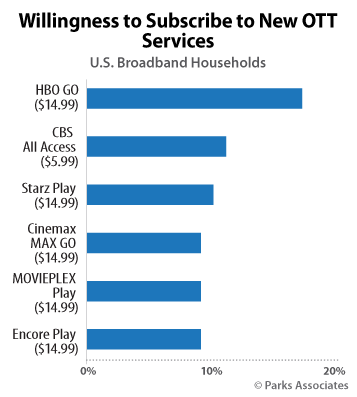 It's hard to imagine that price won't have a major impact on services like the planned HBO venture. However, data is extremely limited given that most of the well-hyped over-the-top services in the US haven't launched yet -- or, in HBO's case, haven't even announced how much their service will cost.
CBS Corp. (NYSE: CBS) was a notable exception last fall when it introduced CBS All Access for $5.99 per month. But the broadcaster hasn't shared any details on consumer adoption. The value proposition is also very different from that of HBO, which traditionally hasn't been available outside of the pay-TV bundle. (See CBS Takes OTT Plunge.)
Sling TV from Dish Network LLC (Nasdaq: DISH) offers a better comparison -- particularly since its skinny TV package includes cable networks ESPN and ESPN2 -- but that service won't launch until later this month. With a $20 monthly price tag, Dish has said it believes Sling TV will be additive rather than a replacement for the standard pay-TV bundle. Any proof, however, will have to wait until a later date. (See FCC Demands the 'Dish' on Sling TV.)
---
Want to know more about OTT video? Check out our dedicated OTT content channel here on Light Reading.
---
Parks Research Director Brett Sappington said in a statement that "2015 is set to be the year of OTT. Along with the new services from CBS, HBO, and DISH, we expect several other players to launch or announce services in the U.S. market in the next few months."
How well those services do will depend on a lot of factors, including content, platform compatibility and streaming quality. But price is a critical variable, and ultimately cost is likely to play a significant role in which services consumers buy, and how and when they buy them.
— Mari Silbey, special to Light Reading