Nielsen: Everyone Wants More Video
New research from The Nielsen Company finds that younger consumers are increasingly looking at digital distribution and live streaming to gain access to preferred programming -- but paradoxically they are also buying more DVDs and Blu-ray discs.
Nielsen's Video 360 2017 report looks at how "consumers in the US discover and view film and TV content across devices and channels, the drivers and barriers to purchase, attitudes around long-form and short-form content, and the trends in free and paid streaming."
According to the report, US consumers in the past year have increased their consumption of digital video. Teens are most likely to stream videos, but online video consumption is growing across age groups. Almost twice as many people in the US are streaming and downloading movies this year, and approximately 25% have live streamed events, particularly sporting events.
Yet, despite this growing adoption of digital distribution channels, physical media is far from dead. In fact, it seems it's just getting its second wind. Millennials surveyed by Nielsen said they had bought more DVDs and Blu-ray discs in the past year than in the one before. Nielsen believes younger audiences are interested in DVDs because they want to build their own video collections, get access to bonus features and view content when offline.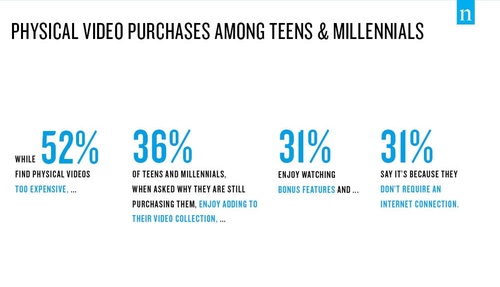 The idea of building a video collection seems almost quaint in this era of SVoD, and makes me wonder if other millennial behaviors could also end up aligning with previous generations as they age. Much of the cord-cutting activity in the pay-TV sector is driven by millennials, so if they are as likely to settle down and watch old movies as their parents, then that would lend credence to the argument that there is a future for full-fat pay-TV bundles.
Only time will unequivocally prove that, so we'll have to wait and see. In the meantime, though, younger audiences are at least selecting their video content differently from their parents. While 45% of them look to social media to help them select their content, only 29% of the general population do so. This is why social networks Facebook and Snapchat are so keen to develop their own content, aimed specifically at those viewing videos on or via their platforms. They know that their future is likely tied to successfully catering to their users' video interests, be it for communication, entertainment or information.
While free viewing is also growing, Nielsen's research also found that more teens are willing to pay for content: 63% of US teens said they purchased digital video in the past year, compared with 45% a year ago.
All in all, the report shows a steady increase in video consumption -- free, pay, even physical media. While cord-cutting is having an impact on pay-TV subscriptions, it's not affecting the actual consumption of video. Video consumption is fragmenting across channels and devices, but overall time spent viewing video is probably already at an unprecedented level, and it seems likely it will keep increasing.
— Aditya Kishore, Practice Leader, Video Transformation, Telco Transformation
PARTNER PERSPECTIVES
- content from our sponsors