While traditional pay-TV players are warning investors of weakness in the video business ahead of third-quarter earnings reports, Netflix is happily reporting another killer quarter. (See Pay-TV Cord-Cutting Slams AT&T.)
The streaming giant once again overshot its quarterly forecast for new subscribers, bringing in a net new 5.3 million memberships globally, well above the 4.4 million it had forecast three months ago. That tally adds up to more than 109 million streaming customers in total, with 52.8 million in the US and 56.5 billion internationally.
Revenue-wise, the US market is still outpacing the rest of the world for Netflix Inc. (Nasdaq: NFLX). Third-quarter revenue in the US was $1.5 billion, while internationally, the company brought in $1.3 billion. Total revenue (including the DVD business) was just a touch under $3 billion in the quarter, up 30% year-over-year.
Netflix reported earnings-per-share of $0.29, which missed investor estimates of $0.32. However, the company's share price still jumped nearly 3% to $208.49 immediately following the quarterly report.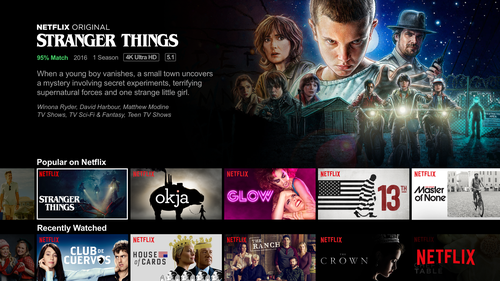 There are a few noteworthy highlights from Netflix's latest quarter, both good and bad. On the positive side, the company lined up a new partnership with T-Mobile US Inc. , which has the potential to drive subscriber numbers even higher as part of a T-Mobile offering that includes the carrier's ONE family plan bundled with Netflix service.
Netflix also announced a rare price hike for several of its streaming plans, which started going into effect in October. That's good news from an investor viewpoint, but maybe counter-intuitively, it also highlights just how cheap Netflix remains for consumers in the current landscape. Ranging from $8 to $14 per month, the OTT service is a fraction of what cable TV costs, and yet the new original shows in its line-up are helping Netflix maintain a perception of significant value.
On the negative side for Netflix, the company did get word in Q3 that it will lose a major content licensing deal after 2018 with the announcement that Walt Disney Co. (NYSE: DIS) plans to pull its programming from the service in favor of pursuing its own direct-to-consumer offerings. However, even there, Chief Content Officer Ted Sarandos was sanguine in the company's quarterly earnings call, pointing out that licensing deals extend over a period of years, which means there won't be a sudden drop-off as programming rights expire from different studios all at once. Sarandos also added that as licensing deals expire, Netflix still has runway to build up more of its own video library.
In a letter to investors, Netflix was explicit in saying, "Our future largely lies in exclusive original content."
---
Want to know more about video and TV market trends? Check out our dedicated video services content channel here on Light Reading.
---
In other highlights from the quarterly investor call, Chief Product Officer Greg Peters emphasized plans to continue improving the Netflix user experience, and he talked about some of the progress the company has made with its video delivery technology, specifically in the video encoding space.
As one example, Peters commented: "We can now provide an amazing video quality experience on mobile for anime titles at 150 kilobits per second which is practically unheard of previously."
Netflix also hopes to bring some of that encoding technology to the airline sector in 2018, encouraging airlines to promote in-flight streaming in conjunction with more efficient bandwidth use.
— Mari Silbey, Senior Editor, Cable/Video, Light Reading